Health and Safety Requirements for Bridgestone Arena
Bridgestone Arena Policies
Guests agree to follow the Arena's health and safety policies, which are informed by Centers for Disease Control and Prevention ("CDC") guidance, National Hockey League guidelines, local, state and federal orders, regulations and ordinances pertaining to health and safety at all times while at the Arena. Health and safety policies may be posted throughout the Arena as well as on tickets and are subject to change as circumstances, regulations or guidance change.

IMPORTANT COVID Entrance Protocol FAQ
Do I need proof of vaccination or a negative COVID-19 test to attend an event at Bridgestone Arena?
Guests are not currently required to show proof of COVID-19 vaccination or a negative COVID-19 test to attend Nashville Predators games or other events held at Bridgestone Arena.

Can I get vaccinated at Bridgestone Arena?
Yes! The organization continues to partner with the Metro Public Health Department and Vanderbilt Health to offer free COVID-19 vaccinations at Bridgestone Arena in connection with every event.

Will requirements change each event?
Arena management acknowledges that some specific events may impose additional requirements that may differ from the above protocols; such additional requirements will be communicated and enforced if and when necessary. Please check the event page for the event you are attending to determine whether there are COVID-19 protocols specific to that event.
Masks are strongly recommended for all guests, except when actively eating or drinking
We will continue to monitor available data and recommendations from our government agency partners at the local, state and federal levels and make any necessary changes as new data and recommendations become available to us. Additional guidance can be found on the CDC's COVID-19 Website.

2022 Toyota U.S. Figure Skating Championships COVID Protocol
U.S. Figure Skating announced Tuesday, Dec. 28 it has reintroduced its COVID-19 vaccination and testing protocols for all persons attending the 2022 Toyota U.S. Figure Skating Championships, scheduled for Jan. 3-9 at Bridgestone Arena in Nashville, Tennessee.
All event attendees over the age of 5 will be required to show proof of vaccination, or a negative PCR or NAAT COVID-19 test taken within three days prior to entering Bridgestone Arena. Additionally, masks will be required for everyone inside Bridgestone Arena. Bridgestone Arena will use the CLEAR app as it has for the NHL Nashville Predators games and other events held at the facility earlier this year. There will be no on-site testing available for spectators at Bridgestone Arena. More information for spectators is available here.
For all 2022 Toyota U.S. Figure Skating Championships event information please click here.

For the most efficient entry possible, all ticket holders should sign up for CLEAR and complete their COVID-19 health screening before arriving at Bridgestone Arena.

For full instructions on how to complete your Health Pass see below:
1) Download the CLEAR app

and tap the white Health Pass tile

2) Select 'Events' and

2022 Toyota U.S. Figure Skating Championships

3) Easily enroll or verify your identity with a quick selfie

4) Follow the prompts to verify your proof of vaccination or negative COVID-19 test

5) Before you arrive, reopen the Health Pass tile and produce your pass. Green is good to go! Be ready to show security for faster entry.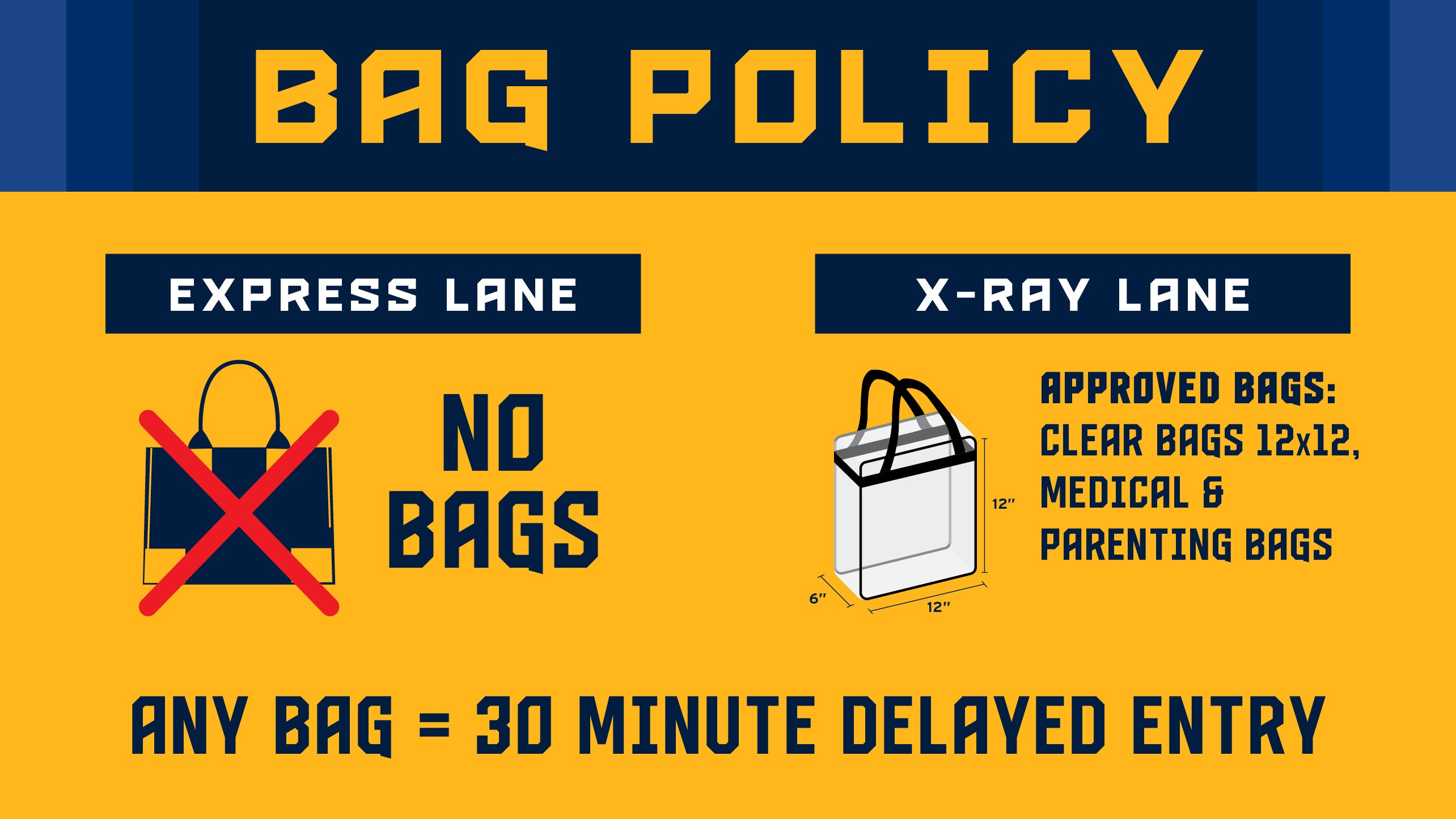 APPROVED BAGS: Medical bags, parenting bags and CLEAR 12" x 12" bags will be permitted following X-Ray screening. Backpacks of any kind are NOT permitted.
Guests attending events with approved bags will experience delayed entry times, for expedited entry please leave bags at home.
If you are not feeling well, please stay at home.
Guests agree to not attend an event at Bridgestone Arena if any one or more of the following is true within 14 days of the day of the event:

(i) you have (or any person in your party or with whom you have close contact has) tested positive for, or been exposed to someone who has tested positive for, COVID-19;
(ii) you have (or any person in your party or with whom you have close contact has) experienced symptoms of COVID-19 (e.g., a fever of 99.5⁰F or higher, cough, shortness of breath or difficulty breathing, chills, repeated shaking, muscle pain/achiness, headache, sore throat, loss of taste or smell, nasal congestion, runny nose, vomiting, diarrhea, fatigue or any other symptoms associated with COVID-19 identified by the CDC);
(iii) you have (or any person in your party or with whom you have close contact has) travelled to any state or international territory identified by federal or applicable local governments as being subject to travel or quarantine advisories due to COVID-19.
Health and Safety Protocols
Frequently touched areas will be sanitized prior to, during and after an event.
Hand sanitizer stations will be provided throughout the venue
Cashless transactions will be implemented throughout Bridgestone Arena.
No smoking allowed on Bridgestone Arena property.
Mobile-only-ticket policy enforced.
The Bridgestone Arena Plaza will open 30 minutes prior to doors opening.
Practice good hygiene.
Wash hands frequently with soap and warm water for at least 20 seconds or use alcohol-based hand sanitizer, if soap and water are not available.
Cover a cough or sneeze with a tissue, then throw the tissue away.
Avoid touching your face.
WELL Health-Safety Rating
Bridgestone Arena has been awarded the WELL Health-Safety Rating for Facility Operations and Management by the International WELL Building Institute. This rating is an evidence-based, third-party verified rating for all new and existing buildings and facility types focusing on operational policies, maintenance protocols, occupant engagement and emergency plans. Although the rating was informed by the COVID-19 pandemic, it also has broader applicability for supporting long-term health and safety needs.
All team members are required to wear a face covering or mask (that covers the nose and mouth) at all times.
All team members will practice good hygiene.
All team members will undergo training for new arena policies and procedures.