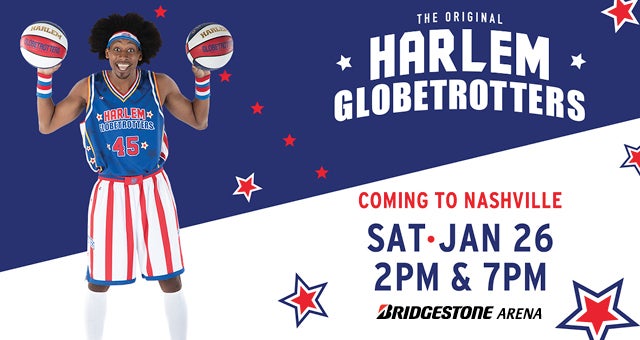 Showings
Event Info
HARLEM GLOBETROTTERS FAN POWERED WORLD TOUR
The Original Harlem Globetrotters are known for amazing feats of basketball, humor, and acts of goodwill on and off the court. And they have always been about their fans, but this year, everything they do will bring fans closer to the action more than ever before.
Join us as we celebrate during our all-new Fan Powered World Tour! There will be over 20 occasions before, during and after our game where you have the opportunity to directly interact with Globetrotters stars.
New this year, you can download the Globetrotters' interactive mobile application with exclusive features, including an augmented reality (AR) basketball toss game. You can also use the app to participate in an extended world record by spinning a ball on your finger.
Before every game, you can secure a spot at Magic Pass, the Globetrotters' exclusive pre-game event. Magic Pass gives you unprecedented access to the stars of the team, as you learn tricks, shoot hoops, and take photos on the court. After the game, you can take part in a free autograph session. The world famous Harlem Globetrotters, with some of the most electrifying athletes on the planet, feature a star-studded roster that includes Big Easy Lofton, Ant Atkinson, Hi-Lite Bruton, Hammer Harrison, Thunder Law, Bull Bullard and Cheese Chisholm – plus women stars TNT Lister, Torch George and Hoops Green*. Back by popular demand are the Flying Globies acrobatic trampoline dunk team.
(*player availability subject to change)
The Globetrotters' one-of-a-kind show is unrivaled in the world of family entertainment. Don't miss out – go to harlemglobetrotters.com and get your tickets today!
Additional Ticket Information
Ages Two and Older Must Have A Ticket.
Group rates available for parties of 12 or more. Contact us at (615) 770-7800 or [email protected] for more details!
Looking for the hottest spot in Downtown Nashville to host a private event? You'll find it at the Patron Platinum Club. Check out the luxurious setting with fresh finishes and fine dining, including:
Sleek modern furniture and Chef's tables, which complement the updated menu by Chef Dario Olivera.
An HD projector and 120-inch screen.
A prime choice for music industry events, social parties, rehearsal dinners, wedding receptions and numerous corporate functions
Located on 5th Avenue near Broadway, with a private entrance in the Bridgestone Arena.