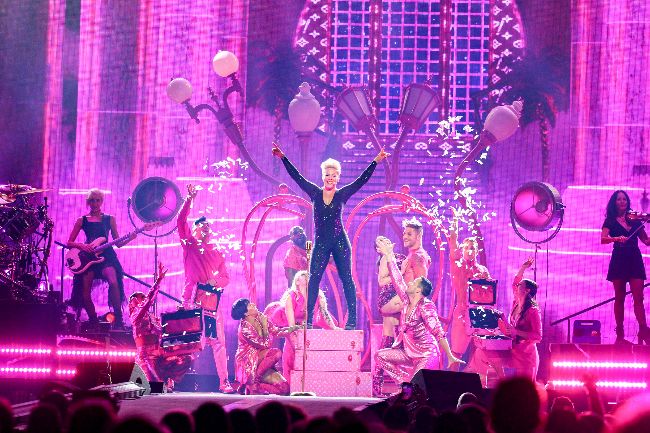 Apr 18, 2019
Bridgestone Arena Hosts Vast Array of Events in Month of March
Over 385,000 Spectators Visited 501 Broadway in 31 Days
In March, 14 events held at Bridgestone Arena provided 21 days of excitement over the span of the 31-day month. Between three non-hockey sporting events, six concerts and shows, five Predators games on home ice and GnashVegas, the Predators Foundation's largest fundraiser, more than 385,000 people made their way through the doors of 501 Broadway.
To kick off the month in true southern style, 30 tons of dirt transformed Bridgestone Arena for the two-day World's Toughest Rodeo, where fans were entertained by competitions including the extreme sport of bull riding. In addition to the rodeo coming to town, UFC Fight Night was also held at the arena and provided an evening filled with knockouts and upsets inside of The Octagon. However, the title of largest sporting event in March undoubtably went to the 2019 SEC Men's Basketball Tournament.
For the eighth time in building history, Bridgestone Arena hosted the SEC Tournament, facilitating 13 basketball games across five days. Setting an all-time SEC single-session record as nearly 21,000 spectators witnessed the semifinal matchup between Tennessee and Kentucky. Combining the attendance from all sessions, over 210,000 total spectators made 2019 the most highly attended edition of the tournament hosted by Bridgestone Arena, with the impressive crowd also breaking records outside of the building. According to Nashville Sports Council, the 2019 SEC Men's Basketball Tournament produced a record-setting direct economic impact of $23,483,541.
For those who prefer musical or comedic entertainment, there was no shortage of shows on the Bridgestone Arena calendar to choose from. Throughout the month of March, P!NK, Travis Scott, Mumford & Sons, Impractical Jokers, Zac Brown Band and Kelly Clarkson each took the stage, bringing in a total greater than 72,000 fans of all kinds.
"At Bridgestone Arena, we pride ourselves on providing something for everyone, and March is a perfect example of what we can accomplish," Senior Vice President of Booking David Kells said. "With the endless support that we receive from fans in Middle Tennessee and across the country who buy tickets to these events, we are able to ensure that amazing concerts and sporting events continue to make our arena a must-stop venue."
In the midst of a month filled with basketball, concerts and much more, the Nashville Predators, who call Bridgestone Arena home, also hosted five games. With nearly 87,000 total Citizens of Smashville visiting the arena for those five matchups, the Predators extended their sell-out streak to 148 games. As of Round 1 Game 2 of the 2019 Playoffs, that streak is still intact and sits at 152 games. On top of the outpouring of support for the Preds, hundreds of Smashvillians also came out to support the Predators Foundation's GnashVegas Casino Night and Auction, raising a record-breaking $210,000 for charities throughout Middle Tennessee.
Hosting more than 385,000 passionate sports and entertainment enthusiasts in March serves as a true testament to Bridgestone Arena being one of the busiest venues in the United States. As one of the premier destinations for numerous national and international events, fans can rest assured that there will be no shortage of exciting events to come.