Health and Safety Guidelines for Smashville
Bridgestone Arena Policies
Guests agree to follow the Arena's health and safety policies, as well as all applicable Centers for Disease Control and Prevention ("CDC") guidance, local, state and federal orders, regulations and ordinances pertaining to health and safety at all times while at the Arena. Health and safety policies may be posted throughout the Arena as well as on tickets.
While on Bridgestone Arena property, guests over the age of 2 are required to wear a cloth face covering or mask (that covers both the nose and mouth) at all times, including, but not limited to, when guests are inside the building or on the plaza. Gaiters, bandanas and coverings with exhalation valves or vents are prohibited, and the use of a face shield does not eliminate the requirement to wear a face covering underneath. A face covering or mask may be lowered when actively eating or drinking at a guest's designated seating location.
Any guest unable to wear a face covering due to a medical condition must provide at least twenty-four (24) hours advance notice to the Arena via the method outlined below.
Any guest that wishes to seek a medical exemption must contact the Arena by emailing

[email protected]

with a subject line "Face Covering Medical Exemption Request".
Please include the guest's name, the game/event the person will be attending, and seat location in the email. A designated representative will respond after receipt of such inquiry with further instructions.
Any guest requiring an accommodation that fails to notify the Arena via the method outlined above and attempts to enter the Arena without a face covering will be denied entry to the Arena.
Any guest that is unable to wear a face covering due to a medical condition will be required to wear a face shield at all times while on Bridgestone Arena property except if necessary when actively eating or drinking in your designated seating location.
COVID-19 Vaccinated Guests
Thank you for keeping Smashville Safe and for helping to stop the pandemic by getting the COVID-19 vaccination. Vaccinated guests must continue to follow health and safety guidelines, including, wearing a mask over your nose and mouth, physical distancing and washing your hands often.
It's important for everyone to continue using all the tools available to help stop this pandemic as we learn more about how COVID-19 vaccines work in real-world conditions. Additional information can be found on the CDC's website - Key Things to Know About COVID-19 Vaccines.
If you are not feeling well, please stay at home.
Upon entry to the building, all guests may be subject to temperature and symptom checks.
Guests agree to not attend an event at Bridgestone Arena if any one or more of the following is true within 14 days of the day of the event:

(i) you have (or any person in your party or with whom you have close contact has) tested positive for, or been exposed to someone who has tested positive for, COVID-19;
(ii) you have (or any person in your party or with whom you have close contact has) experienced symptoms of COVID-19 (e.g., a fever of 99.5⁰F or higher, cough, shortness of breath or difficulty breathing, chills, repeated shaking, muscle pain/achiness, headache, sore throat, loss of taste or smell, nasal congestion, runny nose, vomiting, diarrhea, fatigue or any other symptoms associated with COVID-19 identified by the CDC);
(iii) you have (or any person in your party or with whom you have close contact has) travelled to any state or international territory identified by federal or applicable local governments as being subject to travel or quarantine advisories due to COVID-19.

Complete your symptom screening at BA-Checkin.com
Practice safe social distancing at all times, which means physical distancing of at least six feet from other people not in your party.
To help maintain social distancing guidelines, tickets will be distributed in seat blocks known as "pods" to maintain distance between groups. All attendees are required to maintain pod integrity by only transferring tickets to individuals within their own pod with whom ticket holder has been sheltering or other trusted acquaintances and ticket holder and guests agree to maintain pod integrity throughout the event.
Health and Safety Protocols
Frequently touched areas will be sanitized prior to, during and after an event.
Hand sanitizer stations will be provided throughout the venue
Protective partitions in place at all points of sale.
Cashless transactions will be implemented throughout Bridgestone Arena.
No smoking allowed on Bridgestone Arena property.
Mobile-only-ticket policy enforced.
Extended door times will be utilized to facilitate safe and socially distanced ingress.
The Bridgestone Arena Plaza will open 30 minutes prior to doors opening.
Guests are encouraged to schedule their arrival time through the Know Before You Go email and enter at the designated entrance on their ticket.
Social distancing queuing will be setup using Tensabarrier and floor stickers throughout the venue at entry points, concessions stands, merchandise locations and restrooms.
New elevator protocols, limiting elevator capacity to 4 guests at one time.
At the conclusion of the event, guests will be released by section (Even / Odd).
Practice good hygiene.
Wash hands frequently with soap and warm water for at least 20 seconds or use alcohol-based hand sanitizer, if soap and water are not available.
Cover a cough or sneeze with a tissue, then throw the tissue away.
Avoid touching your face.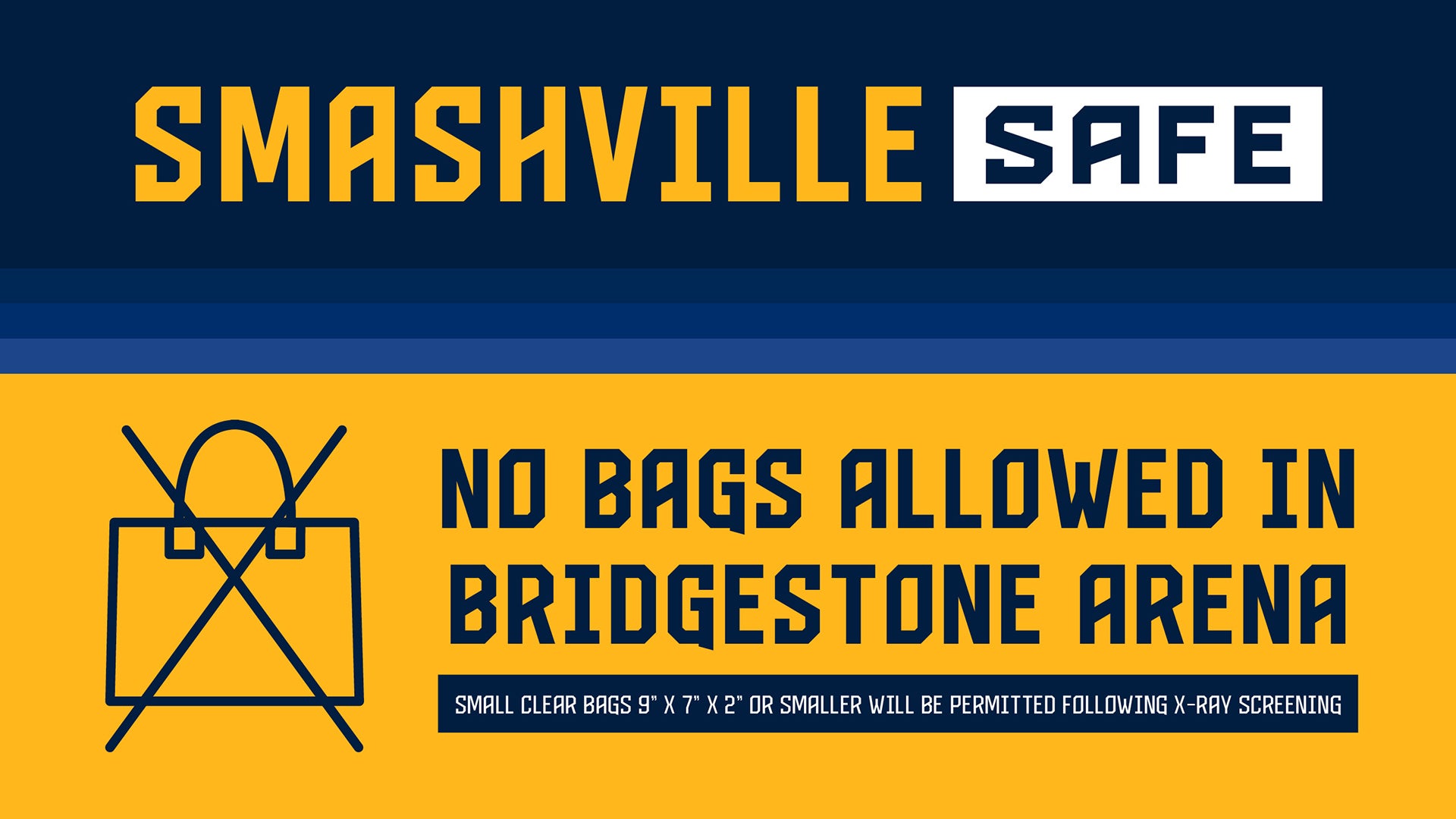 Bridgestone Arena has a No Bag Policy. Small CLEAR bags 9" x 7" x 2" or smaller will be permitted following X-Ray screening. Guests attending events with approved bags may experience longer entry times, for expedited entry please leave bags at home.
* Medical bags and parenting bags will be permitted following X-Ray screening. Backpacks of any kind are NOT permitted.
Concession stands will have modified and limited menus to increase the efficiency of service and to ensure safe food handling.
Menus will be limited to pre-packaged and pre-wrapped items.
Communal condiment stations will be replaced with single serve condiments.
Face coverings must be worn in all areas and can only be removed while actively eating or drinking. Face coverings must be worn while standing, waiting or sitting in dining locations. When food is in hand and actively being consumed, the face covering may be removed. Guests holding beverages are asked to wear a facial covering between each sip.
Additional merchandise locations will be opened to disperse guest purchases throughout the Arena to encourage social distancing.
Capacity of the Nashville Locker Room Team Store and Pro Shop will be limited.
All team members are required to wear a cloth face covering or mask (that covers both the nose and mouth) at all times.
Team member breaks will be staggered, and break rooms will allow for social distancing.
All team members will practice good hygiene.
All team members will undergo training for new arena policies and procedures.
We are committed to bringing you the Lexus Lounge experience you know and love, with slight modifications to create the safest environment for all guests. Changes you can expect when enjoying a game in the Lexus Lounge this season include:
Masks must be worn at all times unless seated and actively eating or drinking.
Lexus Lounge will be limited capacity to allow each group to stay physically distanced from other groups.
Tables & Seating available for each group in attendance.
Due to physical distancing requirements, player interaction will not be available.
Self-serve buffets will be present, gloves will be provided for guests to use if desired.
The Lexus Lounge will be open one (1) hour post game.
For more information on the Lexus Lounge, please email [email protected] or call 615.770.2355.
Nashville's COVID-19 Response
In-person public gatherings and events carry an inherent higher risk of exposure to COVID-19. COVID-19 is an extremely contagious disease. Prior to working or attending a public gathering or event, please learn more about the risks involved and evaluate your individual risk level. In particular, vulnerable individuals, such as certain older adults and those with certain pre-existing health conditions, who have an increased risk for severe illness or death, need to take extra precautions against COVID-19. Additional information can be found at Metro Nashville's COVID-19 response website or at the Centers for Disease Control website.