Arena Policies
Bridgestone Arena is committed to creating a safe, comfortable and enjoyable experience for all guests. All guests shall remain respectful and courteous to Arena staff and fellow patrons and guests must comply with directives from Arena staff regarding Arena policies, emergency response procedures and behavior which impacts the event experience.
The Arena values the support of all guests and reserves the right to eject any guest for any reason. In order to maintain the safe and enjoyable access to Bridgestone Arena and its outdoor plaza area(s) (collectively, "Arena"), all Arena Rules and Regulations below will be applicable and enforceable.
Guests agree to follow the Arena's health and safety policies, as well as all applicable Centers for Disease Control and Prevention ("CDC") guidance, local, state and federal orders, regulations and ordinances pertaining to health and safety at all times while at the Arena. Health and safety policies may be posted throughout the Arena as well as on tickets. Below are the Arena's health and safety policies which are subject to change:
While on Bridgestone Arena property, guests over the age of 2 are required to wear a cloth face covering or mask (that covers both the nose and mouth) at all times, including, but not limited to, when guests are inside the building or on the plaza. Please read our entire face covering policy at "Masks On, Keep Smashville Strong" at https://www.bridgestonearena.com/plan-your-visit/smashville-safe prior to attending an event as this policy will be strictly enforced.
Upon entry to the building, all guests may be subject to temperature and symptom checks.
Guests agree to not attend an event at Bridgestone Arena if any one or more of the following is true within 14 days of the day of the event:

(i) you have (or any person in your party or with whom you have close contact has) tested positive for, or been exposed to someone who has tested positive for, COVID-19;
(ii) you have (or any person in your party or with whom you have close contact has) experienced symptoms of COVID-19 (e.g., a fever of 99.5⁰F or higher, cough, shortness of breath or difficulty breathing, chills, repeated shaking, muscle pain/achiness, headache, sore throat, loss of taste or smell, nasal congestion, runny nose, vomiting, diarrhea, fatigue or any other symptoms associated with COVID-19 identified by the CDC);
(iii) you have (or any person in your party or with whom you have close contact has) travelled to any state or international territory identified by federal or applicable local governments as being subject to travel or quarantine advisories due to COVID-19.

While at Bridgestone Arena, guests must practice safe social distancing at all times, which means physical distancing of at least 6 feet from other people who are not from the guest's household in both indoor and outdoor spaces.
Hand sanitizer stations and disinfectant will be provided throughout Bridgestone Arena for guest use.
To help maintain social distancing guidelines, tickets will be distributed in seat blocks known as "pods" to maintain distance between groups. All attendees are required to maintain pod integrity by only transferring tickets to individuals within their own pod with whom ticket holder has been sheltering or other trusted acquaintances and ticket holder and guests agree to maintain pod integrity throughout the event.
Practice good hygiene while at Bridgestone Arena. Wash hands frequently with soap and warm water for at least 20 seconds or use hand sanitizer if soap and water are not available. Cover a cough or sneeze with a tissue, then throw the tissue away. Avoid touching one's face.
In-person public gatherings and events carry an inherent higher risk of exposure to COVID-19. COVID-19 is an extremely contagious disease. Prior to attending a public gathering or event, please learn more about the risks involved and evaluate your individual risk level. In particular, vulnerable individuals, such as certain older adults and those with certain pre-existing health conditions, who have an increased risk for severe illness or death, need to take extra precautions against COVID-19. Additional information can be found at Metro Nashville's COVID-19 response or at the Centers for Disease Control.
Fifth Third Bank ATMs are located in the box office lobby, on the South Plaza, in the food court next to the Predators Team Store, on the lower concourse at Sections 117-118, and on the upper concourse near Sections 304-305.
Banners and flags are prohibited from being hung or fastened in the Arena. Hand-held signs no larger than 2'x3' are permitted but must meet the following criteria:
Signs cannot be obscene or profane in nature or content.
Signs cannot obstruct the view of guests.
Signs cannot be attached to sticks or poles.
No items may be affixed to signs.
The Arena has the right to revoke this signage policy without prior notification at the request of individual events.
Cameras and Recording Devices
The permitted use of cameras varies by event. Small digital cameras may be permitted for certain events. Cameras with professional lenses, flash attachments, GoPros, camcorders, selfie sticks, iPads or other tablets, drones, tripods, bipods and monopods are prohibited at all times. Use of recording devices and video cameras, both audio and visual, are not permitted within the Arena.
Guests may not interfere with the event and/or athletes and/or performers in any manner.
Guests shall refrain from using abusive or threatening language or obscene gestures and/or language.
Guests may not engage in fighting, taunting, assault, intentional and unwanted physical contact with another guest, making threatening gestures, throwing objects or other behavior deemed potentially detrimental to the experience of other guests; those who engage in any of these actions will immediately be ejected from the event.
Guests are encouraged to report inappropriate behavior to Arena staff.
Guests who consume alcohol must do so in a legal and responsible manner.
Guests shall comply with requests from Arena staff regarding operational and emergency procedures.
Guests may not engage in unauthorized commercial activity on property.
Violation of these Rules and Regulations may result in ejection without a ticket refund.
Guests must be courteous to other guests when entering and leaving the Arena.
Guests shall refrain from placing cups or other items on walls or ledges.
Guests shall refrain from sitting or standing on seat backs or stepping over and/or on seats.
Guests who fail to abide by Arena policies and/or state and federal law are subject to ejection from the Arena.
Services for Guests with Disabilities
Accessible entrances are located at the 5th Avenue Broadway Entrance, Demonbreun entrance, and at all five (5) entry points in the 6th Avenue Garage.
Animals are not permitted in the Arena. Exceptions include service animals to aid guests with disabilities.
Accessible restrooms are located throughout the Arena. Restrooms are accessible in accordance with the Americans with Disabilities Act. There are also accessible family restrooms located throughout the Arena.
Accessible seating is available in accordance with the Americans with Disabilities Act. Accessible seating is available on a first- come, first-served basis.
Assisted listening devices are available upon request from the AT&T Fan Information Center. A valid government-issued photo ID is required as collateral for using an assisted listening device.
Disabled parking is available in the 6th Avenue Garage. The spaces are limited and available on a first-come, first-served basis.
Sign interpreters are available upon request. Interpreters must be requested in advance, two (2) weeks prior to the event. To request a sign interpreter, please call (615) 770-2000.
Wheelchairs are available upon request at the AT&T Fan Information Center. A valid government-issued photo ID is required as collateral for borrowing a wheelchair.
Any guest unable to wear a face covering due to a medical condition must provide at least twenty-four (24) hours advance notice to the Arena via the method outlined below.

Any guest that wishes to seek a medical exemption must contact the Arena by emailing

[email protected]

with a subject line "Face Covering Medical Exemption Request".
Please include the guest's name, the game/event the person will be attending, and seat location in the email. A designated representative will respond after receipt of such inquiry with further instructions.

Any guest requiring an accommodation that fails to notify the Arena via the method outlined above and attempts to enter the Arena without a face covering will be denied entry to the Arena.
Any guest that is unable to wear a face covering due to a medical condition will be required to wear a face shield at all times while on Bridgestone Arena property except if necessary when actively eating or drinking in your designated seating location.
Disruptive and/or disorderly guests should be reported to an usher or event staff personnel immediately. Ejected guests must vacate Arena property immediately.
Need In-Game Assistance?
Text your location and issue to 615-502-4848
Let us know how to help you: Are you sitting next to an unruly fan? Is there an issue with your seat? Service issue? Text us your location and a description of the issue you are experiencing and a Bridgestone Arena staff member will be by to assist you shortly.
Guests can contact Arena representatives directly for assistance with issues ranging from security to cleaning matters. Guests can directly contact an Arena representative or download the official Preds App, and select 'In-Game Help' for assistance during the event.
Need In-Game Assistance?
Text your location and issue to 615-502-4848
Let us know how to help you: Are you sitting next to an unruly fan? Is there an issue with your seat? Service issue? Text us your location and a description of the issue you are experiencing and a Bridgestone Arena staff member will be by to assist you shortly.
Vanderbilt first aid centers are located on the main and upper concourse near Section 111 and near Section 311. Trained medical personnel are on site for every ticketed Arena event and are available to those needing assistance.
Procedures for giveaways are established by the Arena and must receive prior approval from Arena.
Guests entering the Arena must be properly attired, which includes shoes. Proper clothing items must be worn at all times in the Arena. Guests displaying obscene, indecent and/or inappropriate clothing are subject to management discretion and may be prohibited from entering or remaining at the Arena.
Guest Services and General Information
Elevators: public elevators are located at the southwest and east sides of the Arena. The southwest elevator is located next to the 6th Avenue parking garage entrance and is accessible to main, suite, club and upper level concourses. The east elevator accesses all levels except the upper concourse.
Guest Drop-Off Point: eastbound curb lane of Broadway between 6th & 5th Aves.
Guest Survey: Guests attending Arena events may be asked to complete a voluntary guest survey. The survey is utilized by the Arena to ensure the best possible guest experience.
Mother's Lounge: The Arena has a room dedicated to mothers, equipped with changing tables and nursing chairs located on the Club Level near Section 213.
If applicable, lines for general admission seating start at 6AM on the day of event at the SoBro Entrance Plaza.
Camping and staying overnight on Arena property is prohibited.
Guests who are visibly intoxicated or display obvious signs of intoxication may not admitted into the Arena. If you observe or encounter a visibly intoxicated guest or a guest displaying obvious signs of intoxication at the Arena, please contact an Arena security representative and/or a uniformed officer. Visibly and obviously intoxicated guests are subject to ejection from the event.
Items found before, during, or after an event should be turned into the AT&T Fan Information Center. Items will then be turned into security, logged in and kept for 14 calendar days. Item(s) may be donated to charity or disposed of at the discretion of Arena management if not claimed after such period. The Arena is not responsible for any lost or damaged items.
Lost guests/children should be directed to our AT&T Fan Information Center adjacent to Section 103.
The paging of guests in the Arena is not permitted.
Guests are not permitted to bring the following items to the Arena:
Animals, with the exceptions of service animals
Backpacks
Bottles or cans
Coolers
Camp/folding chairs
Drones and any other type of UAV
Fireworks
Food and drink purchased outside (including alcohol)
Frisbees and/or beach balls
Gifts (for artists, athletes or event participants)
GoPros or another camcorder
Grills of any size
Heaters of any kind, including but not limited to propane and electric
Hoverboards, bicycles, skateboards, roller skates/shoes, wagons
Illegal drugs
Inflatables including balloons & beach balls
Laptops or tablets (unless by a credentialed member of the media)
Laser pointers
Luggage
Poles or sticks of any kind such as flagpoles, broomsticks, selfie sticks
Tents, tarps, sleeping bags
Two-way radios
Noise making devices including, but not limited to: air horns, sirens, whistles, cowbells, megaphones and any other noise/voice amplification device detract from the overall guest experience and interfere with event programming, advertising, and safety announcements. As such, all noise making and amplification devices are prohibited.
Guests may not carry weapons, firearms, knives, stun guns, pepper spray, mace and/or dangerous devices of any type. No firearms carried by guests are permitted at the Arena with the exception of qualified law enforcement officers who are present at the Arena in a non-working function and have notified the Arena's Director of Security and Metro Police ahead of the event to be properly verified. Without such verification and approval, such off-duty and qualified law enforcement officers will not be permitted to bring such firearm(s) in the Arena.
Any item deemed to be inappropriate or hazardous by Arena security
Guests found in possession of contraband items will be subject to ejection from the Arena and the contraband items may be confiscated.
The throwing of any object inside the Arena by guests is prohibited.
The Arena has a no re-entry policy.
The Arena is committed to the safety of its guests. Walk-through metal detectors are in place at all entrances. All individuals entering the Arena will be screened and all personal items and bags will be subjected to a security search. All individuals entering the Arena must have a valid ticket or credential. Guests must comply with all screening policies and procedures, which may vary by event.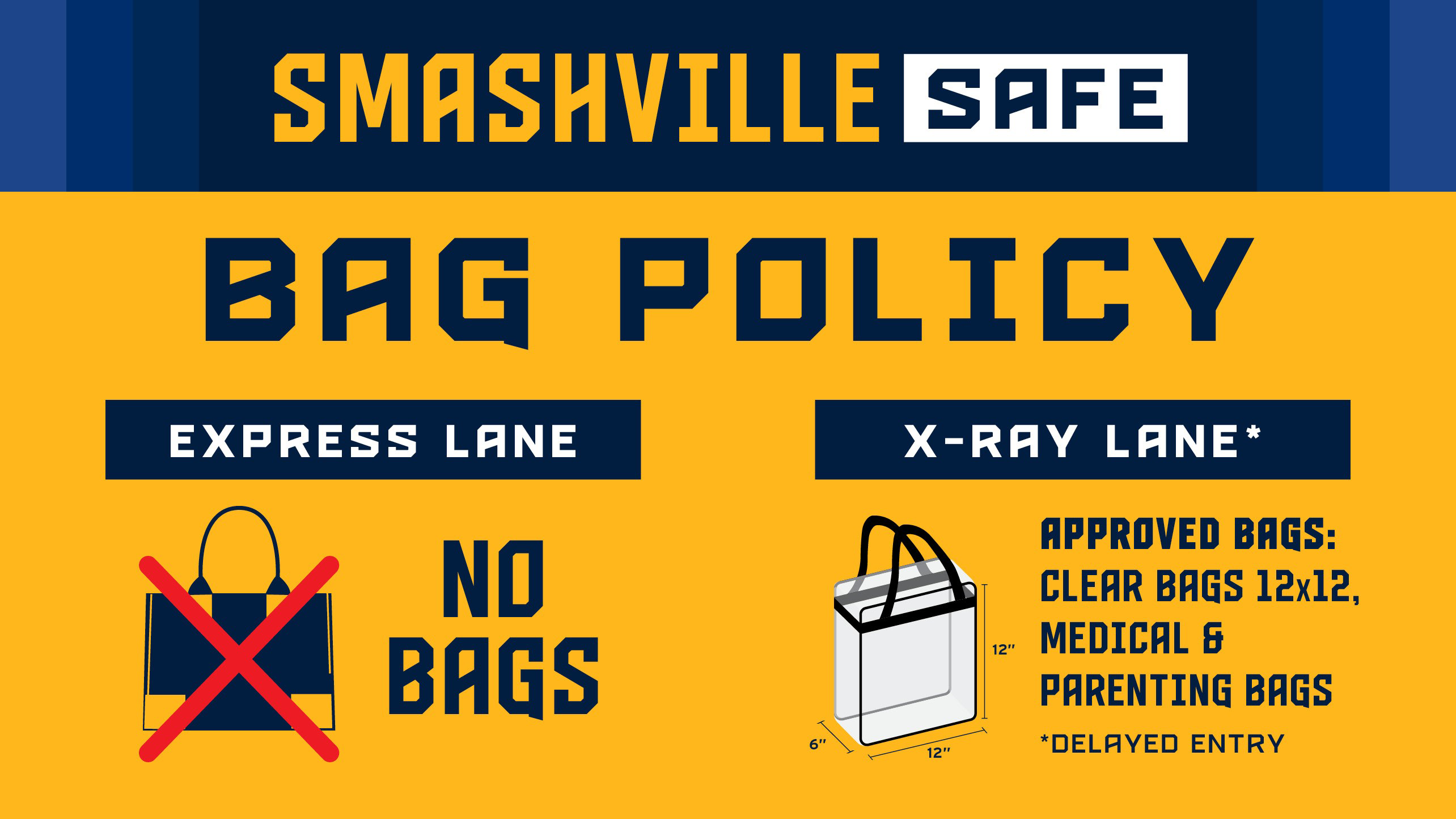 APPROVED BAGS: Medical bags, parenting bags and CLEAR 12" x 12" bags will be permitted following X-Ray screening. Backpacks of any kind are NOT permitted.
Guests attending events with approved bags will experience delayed entry times, for expedited entry please leave bags at home.
All guests are required to have a ticket to enter the Arena and must sit in their assigned ticket location. Failure to produce a ticket (either via paper ticket or mobile ticketing) will result in ejection from the Arena.
Aisleways are to remain clear at all times
Please be aware of our puck-in-play policy which requires guests to refrain from accessing their seats during hockey games until the puck is no longer in play. This policy enables guests to enjoy an unobstructed view of the game.
Prolonged standing when surrounding guests are not standing is not permitted.
Bridgestone Arena is a storm ready certified arena. Arena officials work directly with the National Weather Service and the Metro Office of Emergency Management to monitor and adapt to ever-changing weather conditions. In the event of a severe weather situation, guests are directed to follow the guidance of Arena personnel to ensure everyone's safety.
The Arena is a smoke-free facility. Smoking, (including but not limited to e-cigarettes and vaping devices) is not allowed on the Arena property.
Due to crowd flow, environmental, health and safety concerns, soliciting on Arena property is strictly prohibited. This includes distribution of flyers, pamphlets, leaflets, brochures, gathering of signatures, picketing and unauthorized merchandise sales, all of which are strictly prohibited. Individuals distributing materials of any kind or soliciting will be ejected from the Arena and/or Arena property.
Guests are encouraged to leave their strollers in their vehicles prior to arrival at the Arena; however, strollers may be checked into our AT&T Fan Information Center upon arrival. Strollers are not permitted to enter the seating area of the Arena or block any aisleways.
Re-selling of tickets on Arena property is strictly prohibited and violators must vacate Arena property and may be prosecuted.