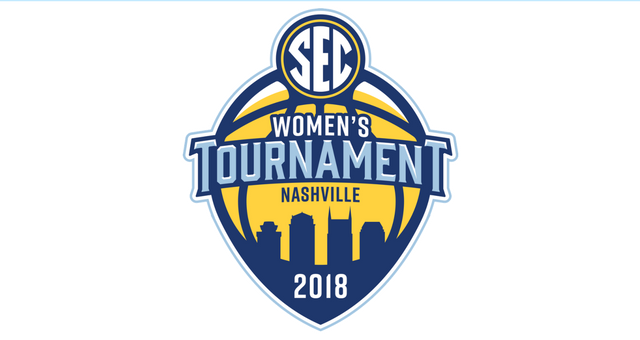 2018 SEC Women's Basketball Tournament
2018 SEC Women's Basketball Tournament
Feb
28
-
Mar
04
, 2018
2018 SEC Women's Basketball Tournament
Showings
Event Info
Fans are strongly encouraged not to bring any type of bags to the tournament, but if you do, they must be clear or the size of a small clutch bag.
Here's what will be allowed:
Bags that are clear plastic, vinyl or PVC and do not exceed 12" x 6" x 12"
One-gallon clear plastic freezer bag (Ziploc bag or similar)
Small clutch bags, no larger than 4.5" x 6.5", with or without a handle or strap
An exception will be made for medically necessary items after proper inspection at a gate designated for this purpose
Gates open for the arena one hour prior to the first game of each day of the tournament to accommodate early arriving fans.
Prohibited items include, but are not limited to: purses larger than a small clutch bag, coolers, briefcases, backpacks, fanny packs, cinch bags, seat cushions, luggage of any kind, computer bags and camera bags or any bag larger than the permissible size (12" x 6" x 12").
Items that are typically carried in diaper or baby bags must be carried in a clear bag that meets the standards of the bag policy.
Fans may still bring items such as binoculars and cameras (with lens less than 4 inches in length), provided they are not in cases, as well as smart phones into each arena.
Any fan who witnesses suspicious activity at the Bridgestone Arena in Nashville should notify uniformed security personnel, or call (615) 770-2050.
| | | | |
| --- | --- | --- | --- |
| Date | Time (CT) | GAME | TV |
| FIRST ROUND: Wed., Feb. 28 | 11 a.m. | Game 1: No. 12 Vanderbilt vs No. 13 Arkansas | SEC Network |
| | | Game 2: No. 11 Florida vs No. 14 Ole Miss | SEC Network |
| SECOND ROUND: Thurs., March 1 | 12 p.m. | Game 3: No. 8 Alabama vs No. 9 Kentucky | SEC Network |
| | | Game 4: No. 5 Texas A&M vs Game 1 winner | SEC Network |
| | 6 p.m. | Game 5: No. 10 Auburn vs No. 7 Tennessee | SEC Network |
| | | Game 6: No. 6 Missouri vs Game 2 winner | SEC Network |
| THIRD ROUND: Fri., March 2 | 12 p.m. | Game 7: No. 1 Mississippi State vs Game 3 winner | SEC Network |
| | | Game 8: No. 4 LSU vs Game 4 winner | SEC Network |
| | 6 p.m. | Game 9: No. 2 South Carolina vs Game 5 winner | SEC Network |
| | | Game 10: No. 3 Georgia vs Game 6 winner | SEC Network |
| SEMIFINALS: Sat., March 3 | 4 p.m. | Game 11: Game 7 winner vs Game 8 winner | ESPNU |
| | | Game 12: Game 9 winner vs Game 10 winner | ESPNU |
| CHAMPIONSHIP: Sun., March 4 | 3:30 p.m. | Game 13: Game 11 winner vs Game 12 winner | ESPN2 |