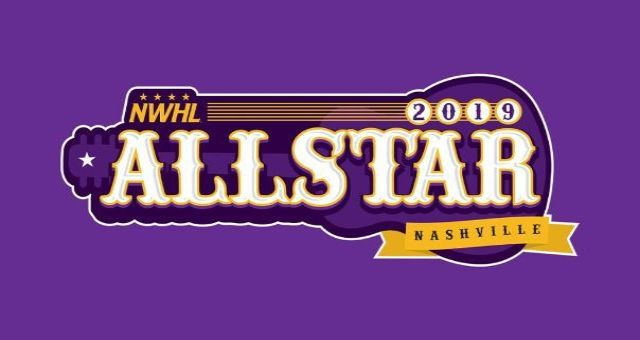 2019 NWHL All-Star Weekend
2019 NWHL All-Star Weekend
Feb
10
, 2019
2019 NWHL All-Star Weekend
Date

Feb

10

, 2019

Event Starts

2:45 PM

Availability

On Sale Now
Showings
Event Info
The Nashville Predators and National Women's Hockey League (NWHL) today announced a partnership to present 2019 NWHL All-Star Weekend in Music City. Among the highlights of the weekend will be a unique NHL-NWHL doubleheader at Bridgestone Arena on Sunday, Feb. 10.
The 2019 NWHL All-Star Game will be played on Feb. 10 at Bridgestone Arena. After the Predators host the St. Louis Blues at 11:30 a.m. (CT), the NWHL All-Star Game will begin at 2:45 p.m. Doors to Bridgestone Arena will open at approximately 2 p.m. for fans with NWHL-only tickets. Enjoy free popcorn and soda once the All-Star Game starts and 20% off at the Predators Team Store at the conclusion of the All-Star Game.
The All-Star Game will consist of two 25-minute halves, and each team will have 14 skaters and two goaltenders. The captains of the teams will be Buffalo Beauts goaltender Shannon Szabados, a three-time Olympian with Team Canada, and Minnesota Whitecaps defender Lee Stecklein, who won the gold medal with Team USA in the Olympics in February.
The annual NWHL All-Star Skills Challenge will take place on Saturday, Feb. 9 at Ford Ice Center. This will be an exclusive event, with seating for just 500 fans, and it will include a post-event autograph session with NWHL All-Stars. Tickets will be available beginning Nov. 28 via Ticketmaster. Prior to the Skills Challenge, NWHL All-Stars will conduct a hockey clinic for young girls enrolled in the Little Preds Learn to Play program.
Find additional information about the NWHL and the NWHL All-Star Game.
Looking for the hottest spot in Downtown Nashville to host a private event? You'll find it at the Patron Platinum Club. Check out the luxurious setting with fresh finishes and fine dining, including:
Sleek modern furniture and Chef's tables, which complement the updated menu by Chef Dario Olivera.
An HD projector and 120-inch screen.
A prime choice for music industry events, social parties, rehearsal dinners, wedding receptions and numerous corporate functions
Located on 5th Avenue near Broadway, with a private entrance in the Bridgestone Arena.