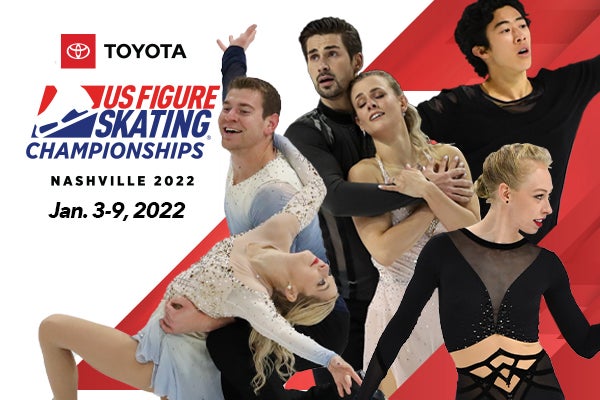 2022 Toyota U.S. Figure Skating Championships
2022 Toyota U.S. Figure Skating Championships
Jan
03
-
09
, 2022
2022 Toyota U.S. Figure Skating Championships
Showings
Event Info
UPDATE: U.S. Figure Skating announced Tuesday, Dec. 28 it has reintroduced its COVID-19 vaccination and testing protocols for all persons attending the 2022 Toyota U.S. Figure Skating Championships, scheduled for Jan. 3-9 at Bridgestone Arena in Nashville, Tennessee.
All event attendees over the age of 5 will be required to show proof of vaccination, or a negative PCR or NAAT COVID-19 test taken within three days prior to entering Bridgestone Arena. Additionally, masks will be required for everyone over the age of two inside Bridgestone Arena. Bridgestone Arena will use the CLEAR app as it has for the NHL Nashville Predators games and other events held at the facility earlier this year. There will be no on-site testing available for spectators at Bridgestone Arena. More information for spectators is available here.
The competition's COVID-19 protocols for those accredited to access Bridgestone Arena's event level have also been updated. As previously shared, all accredited individuals will be required to provide a negative COVID-19 PCR or NAAT test regardless of vaccination status to receive accreditation. Additionally, all accredited individuals participating in the event for more than four days will be required to take a second, on-site test at the expense of U.S. Figure Skating.
The 2022 Toyota U.S. Figure Skating Championships will be held Jan. 3-9, 2022 in Nashville, Tennessee at Bridgestone Arena. U.S. champions will be crowned in ladies, men's, pairs and ice dance at the championship and junior levels of the U.S. Figure Skating competitive structure. The U.S. Championships, which serves as the final qualifying competition prior to U.S. Figure Skating nominating athletes to the U.S. Olympic Figure Skating Team, attracts more than 750 athletes, coaches, officials and media to the host community, in addition to thousands of spectators.
SCHEDULE
Tuesday, Jan. 4
Junior Short Programs/Rhythm
Wednesday, Jan. 5
Junior Free Skates/Dance
Thursday, Jan. 6
Championship Pairs Short Program
Championship Ladies Short Program
Friday, Jan. 7
Championship Rhythm Dance
Championship Ladies Free Skate
Saturday, Jan. 8
Championship Men's Short Program
Championship Pairs Free Skate
Championship Free Dance
Sunday, Jan. 9
Championship Men's Free Skate
Skating Spectacular