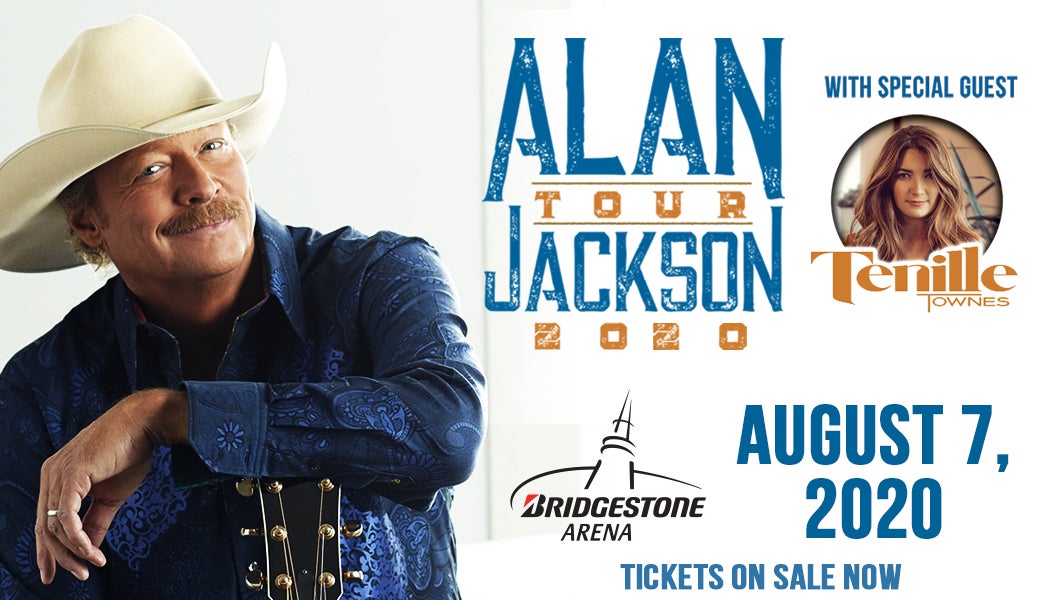 Date

Aug

07

, 2020

Event Starts

7:30PM

Ticket Prices

$50.38, $62.35, $84.75, $121.09, $157.48

Availability

On Sale Now

Parking

Premium Options
Showings
Event Info
Country Music Hall of Famer Alan Jackson will bring decades of hits to the stage when he performs in concert at Bridgestone Arena in Nashville, TN on Friday, August 7, 2020! Tickets go on sale this Friday, November 15 at 10:00 AM (CT).
Tickets and information are available at Ticketmaster.com, by phone at 1-800-745-3000 or by visiting alanjackson.com/tour, where you can find information about Alan, his tour schedule, music and more. Jackson is again teaming up with CID Entertainment to offer VIP Experiences at many of his 2019 shows; fans can choose from four experiences with a variety of perks including a backstage tour, the opportunity to watch the show from a barstool by the soundboard, access to a pre-show party featuring live music, a signed item, and more!
Jackson's Bridgestone Arena show will be the country icon's first Nashville concert in three years! His last full-scale show in Music City was held on Broadway to celebrate the kickoff of the Nashville Predators' 2017 home stand in the Stanley Cup Finals.
Alan Jackson's concerts find the country icon performing hits that have gained him legions of longtime fans, songs that continue to draw new crowds as new generations discover his music. Jackson's repertoire stands the test of time; it has impacted all sorts of artists who cite Jackson as an influence. It's these same songs – many written by Alan – that have earned him his place alongside country music's greatest names and cemented his place in its history with membership in the Country Music Hall of Fame and the Songwriters Hall of Fame. Fans will hear the songs they love from the man who wrote them and made them famous – enduring hits such as his debut single "Here in The Real World"…signature songs "Chattahoochee," "Drive" and "Gone Country"…party anthems "It's Five O'Clock Somewhere" and "Good Time"…and many, many more.
In addition to a special guest (to be announced), Alan's Nashville tour stop will showcase one of Jackson's favorite rising stars who play at AJ's Good Time Bar, his self-owned honky-tonk just a few steps away on downtown Nashville's famed "Lower Broadway."
Alan Jackson's songs have gained him worldwide acclaim, from critics and fans alike. In 2020, he'll continue his tradition of "keepin' it country" as he brings 30 years of hits to Bridgestone Arena next summer!
ABOUT ALAN JACKSON:
A member of the Country Music Hall of Fame and an inductee to the Songwriters Hall of Fame, Alan Jackson's membership among music's all-time greats is part of a long line of career-defining accolades that include three CMA Entertainer of the Year honors, more than 25 years of membership in the Grand Ole Opry, a Billboard ranking as one of the Top 10 Country Artists of All-Time, induction to the Nashville Songwriters Hall of Fame, and the Heritage Award as the most-performed country songwriter-artist of ASCAP's first 100 years.
The man from rural Newnan, GA has sold nearly 60-million albums worldwide, ranks as one of the 10 best-selling male vocalists of all-time (rock, pop and country). He has released more than 60 singles – registering 50 Top Ten hits and 35 #1s (including 26 Billboard chart-toppers). He has earned more than 150 major music industry awards – including 19 Academy of Country Music Awards, 16 Country Music Association Awards, a pair of Grammys and ASCAP's Founders and Golden Note Awards.
Jackson is one of the most successful and respected singer-songwriters in music. He is in the elite company of Paul McCartney and John Lennon among songwriters who've written more than 20 songs that they've recorded and taken to the top of the charts. He's also the man behind one of Nashville's most-popular tourist stops, AJ's Good Time Bar, a four-story honky-tonk in the heart of downtown featuring daily live music and a rooftop view of Music City.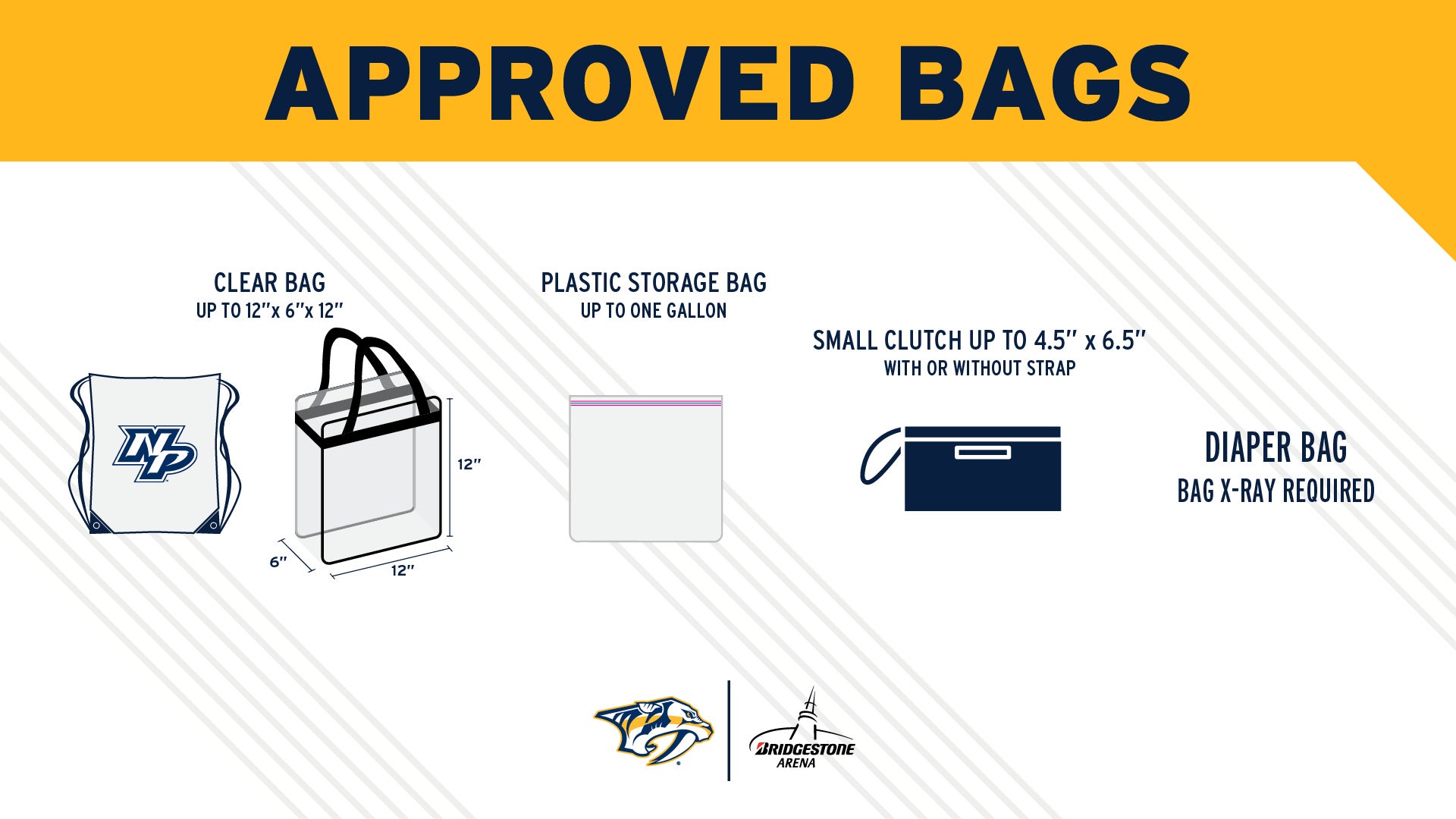 The fastest way to enter Bridgestone Arena is to not bring a bag at all. Clear or no bags grant guests access to our Express Lanes. Bags that are made of solid material that fit within the 12-inch-by-12-inch-by-6-inch size requirement will be placed through an X-ray scanner upon entry. Bags larger than the 12-inch-by-12-inch-by-6-inch dimensions, including duffel bags, cooler bags, backpacks and rolling luggage, will continue to be prohibited inside of Bridgestone Arena. All clear bags must be completely clear and may not have any color tinting, printed designs or panels of fabric. Diaper bags that fit within the guidelines of the approved bags will be permitted but must go through bag X-ray machine.