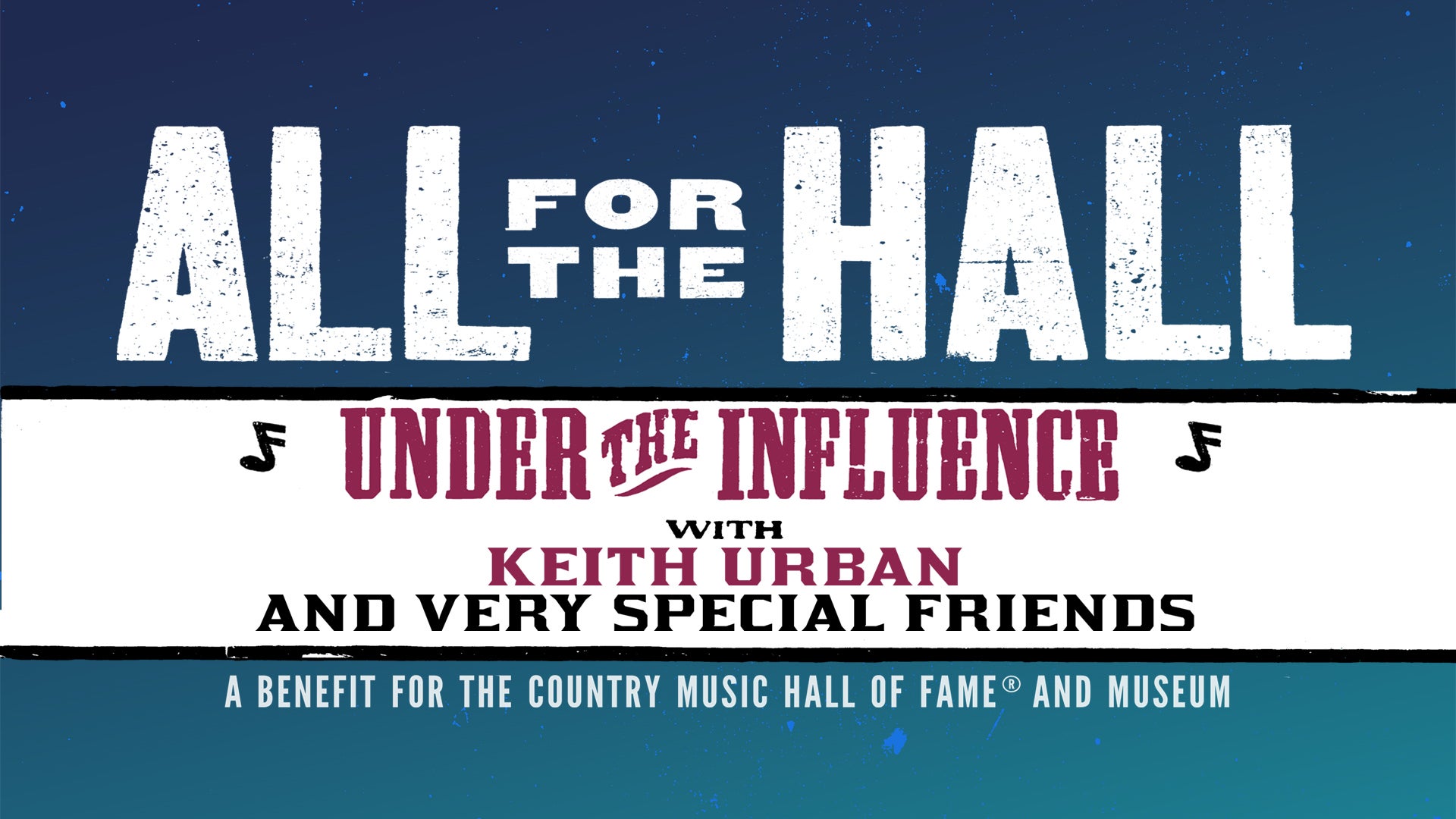 Date

Feb

10

, 2020

Event Starts

7:30 PM

Doors Open

6:00PM

Ticket Prices

$49.50, $69.50, $175.00, $225.00

Availability

On Sale Now

Parking

Premium Options
Showings
Event Info
Between periods of the Nashville Predators' nationally televised home opener against the Minnesota Wild, Keith Urban took to the ice to perform and announce that the All for the Hall benefit concert, presented by City National Bank, will return to Nashville's Bridgestone Arena on Monday, Feb. 10, 2020. Ingrid Andress, Brothers Osborne, Luke Combs, Lauren Daigle, Blake Shelton, Chris Stapleton, Tenille Townes and Tanya Tucker will join Urban for his seventh All For The Hall benefit concert, which to date has raised $3.4 million in support of the
Country Music Hall of Fame® and Museum's education programs. Additional artists are expected to be named later.
The Country Music Hall of Fame and Museum, through its exhibits and educational programs, shares the ever-evolving country music story, from its folk roots to the present day. Throughout this narrative, the inspiration that artists draw from their musical forbearers is tangible. This exploration of how music inspires and influences later generations of artists led directly to the concert's theme, All for the Hall: Under the Influence. During the concert, each participating artist will perform a song that was recorded by an artist who strongly influences them, in addition to one of their own hits.
"Ken Burns' documentary has shown us that we are all very much influenced by our heroes," said Urban. "So this year's All for the Hall benefit is our chance to acknowledge those that have been an influence on us and helped shape the artists that we are today. Somehow these shows always seem to take on a life of their own. They're incredibly fun to do, and you never quite really know what's gonna happen. So we'll roll with it and turn Bridgestone (Arena) into one huge club!"
This All for the Hall concert is presented by City National Bank. Ford Motor Company and Mid-South Ford Dealers are the lead sponsors. Contributing sponsors are the Academy of Country Music and the Country Music Association; Urban is both organizations' reigning Entertainer of the Year.
This All for the Hall show is produced by Live Nation.
More information about this All for the Hall show and the All for the Hall benefit concert series can be found at www.CountryMusicHallofFame.org
About All for the Hall: The All for the Hall campaign began in 2005 when Country Music Hall of Fame member Vince Gill suggested country music artists contribute the proceeds of one annual performance to benefit the Country Music Hall of Fame and Museum.
The All for the Hall concert series was launched in 2007 in New York. The series has alternated between New York and Los Angeles in succeeding years, with Gill and fellow Country Music Hall of Fame member Emmylou Harris as hosts. Along with Urban, Gill historically hosts the All for the Hall concert in Nashville.
Looking for the hottest spot in Downtown Nashville to host a private event? You'll find it at the BetMGM Sports Lounge. Check out the luxurious setting with fresh finishes and fine dining, including:
Sleek modern furniture and Chef's tables, which complement the updated menu by Chef Dario Olivera.
An HD projector and 120-inch screen.
A prime choice for music industry events, social parties, rehearsal dinners, wedding receptions and numerous corporate functions
Located on 5th Avenue near Broadway, with a private entrance in the Bridgestone Arena.
About the BetMGM Sports Lounge
Purchase dinner for this event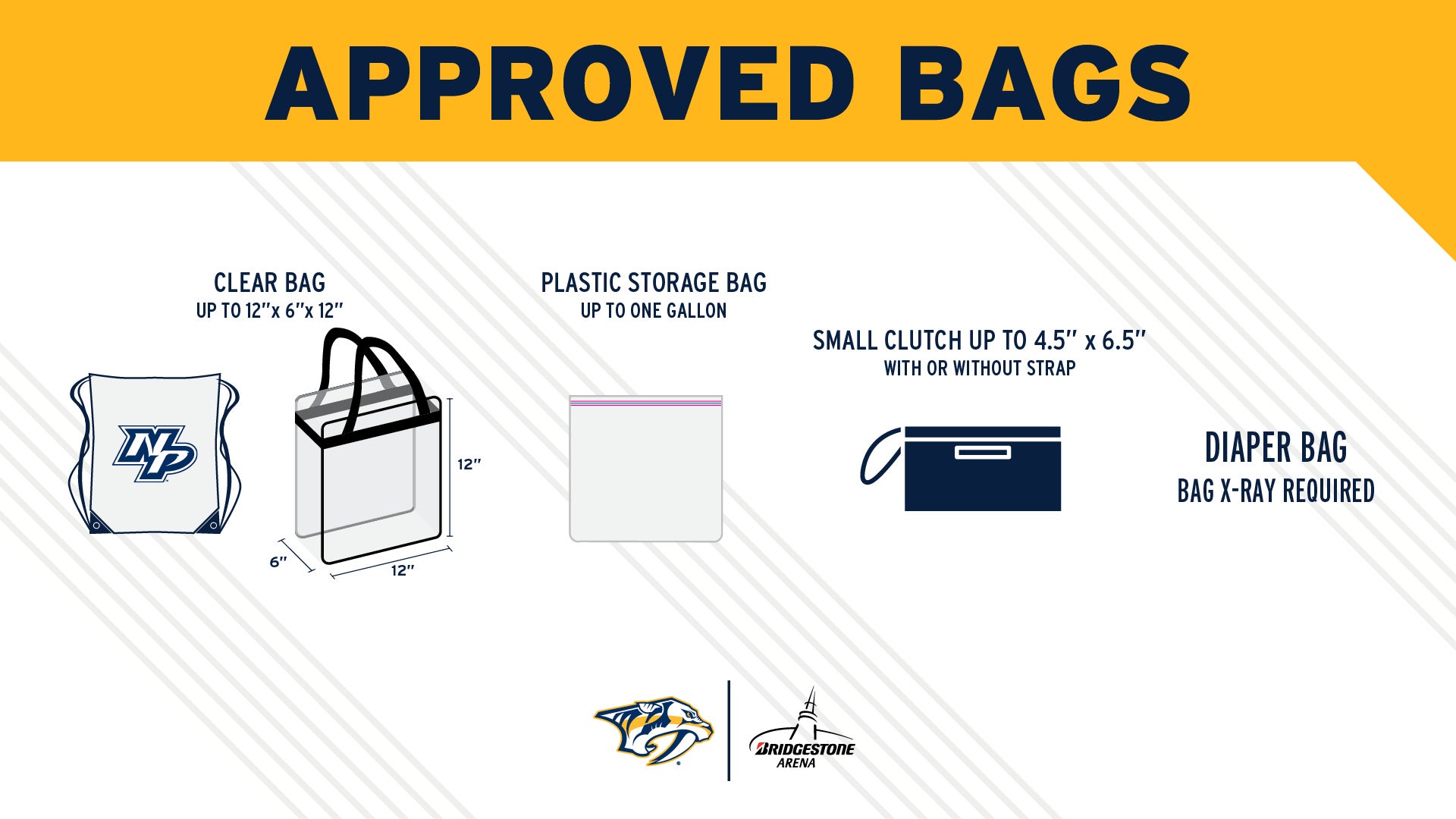 The fastest way to enter Bridgestone Arena is to not bring a bag at all. Clear or no bags grant guests access to our Express Lanes. Bags that are made of solid material that fit within the 12-inch-by-12-inch-by-6-inch size requirement will be placed through an X-ray scanner upon entry. Bags larger than the 12-inch-by-12-inch-by-6-inch dimensions, including duffel bags, cooler bags, backpacks and rolling luggage, will continue to be prohibited inside of Bridgestone Arena. All clear bags must be completely clear and may not have any color tinting, printed designs or panels of fabric. Diaper bags that fit within the guidelines of the approved bags will be permitted but must go through bag X-ray machine.