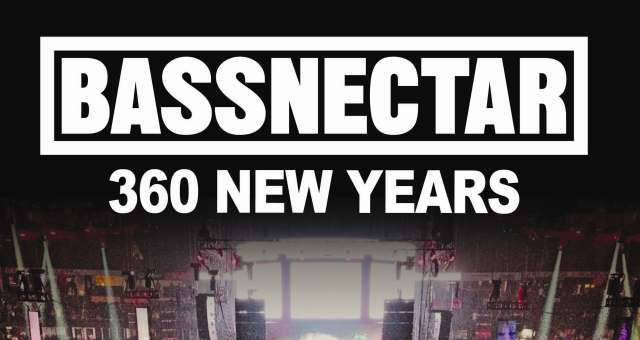 Bassnectar - SOLD OUT
with special guests Zion I and ill-esha
Bassnectar - SOLD OUT
with special guests Zion I and ill-esha
Dec
31
, 2013
Bassnectar - SOLD OUT
with special guests Zion I and ill-esha
Date

Dec

31

, 2013

Event Starts

9:00 PM

Ticket Prices

$53.50

Availability

On Sale Now
Showings
Event Info
Capping another year of touring and festival gigs around the world, the Immersive Music Man, Bassnectar will be coming to Nashville's Bridgestone Arena on New Years Eve for a third straight year. Following NYE 2013's landmark 360° live show, Bassnectar is bringing the circular set-up and his signature low-end blend back to the Music City for an incredible experience only Mr. Ashton himself can deliver. This fall also saw him release a total of three new pieces of music between his Immersive Music Mixtape Sides One and Two along with his ethereal single "Take You Down". Support for New Years Eve will come from hip-hop duo Zion I and Canadian electronic artist ill-esha.
BRIDGESTONE ARENA NEW YEARS EVE PERMISSABLES
NOT ALLOWED
• NO ILLEGAL SUBSTANCES, DRUGS OR DRUG PARAPHERNALIA
• NO WEAPONS OF ANY KIND, FIREWORKS / EXPLOSIVES
• NO OUTSIDE FOOD OR DRINK
• NO GLOWSTICKS, LASER POINTERS, AIR HORNS
• NO LARGE BACKPACKS
• NO STUFFED ANIMALS, DOLLS, OR PLUSH BACKPACKS
• NO OPEN PACKS OF CIGARETTES OR UNSEALED TAMPONS (UPON ENTRY)
• NO STICKERS OR HANDOUTS
• NO PROFESSIONAL STILL CAMERA EQUIPMENT WITHOUT A CREDENTIAL (NO DETACHABLE LENSES, NO TRIPODS)
• NO AUDIO / VIDEO RECORDING EQUIPMENT
• NO GLASS, CANS, CUPS, OR COOLERS
• NO UMBRELLAS, CHAIRS, OR BLANKETS
• NO CROWD SURFING (1 WARNING BEFORE REMOVAL)
• NO VAPORIZATION UNITS OR ELECTRONIC CIGARETTES
• NO WATER GUNS / WATER BALLOONS / WATER PROJECTILES
• NO TOTEMS OVER 5' TALL (NO METAL OR SHARP OBJECTS ATTACHED)
• NO PACIFIERS, DUST MASKS, OR FULL FACE MASKS
• NO MUSICAL INSTRUMENTS OR DRUMS
• NO EYE DROPS
• NO MARKERS, PENS, OR SPRAY PAINT
• NO LARGE CHAINS OR SPIKED JEWELRY
• NO PETS (EXCLUDING GUIDE DOGS OR SERVICE ANIMALS)
BRIDGESTONE ARENA RESERVES THE RIGHT TO PROHIBIT ITEMS NOT LISTED ABOVE BASED ON MANAGEMENT'S DISCRETION
ALLOWED
• YES SMALL BACKPACKS, BAGS, AND FANNY PACKS (NO LARGER THAN 12"X12")
• YES CAMELBAKS, BOTA BAGS, AND WATER BOTTLES (EMPTY UPON ENTRY)
• YES NON-PROFESSIONAL FILM / DIGITAL CAMERAS
• YES COSTUMES & MASKS (NOT FULL FACE)
• YES BINOCULARS
• YES EARPLUGS
• YES BATTERY POWERED / RECHARGABLE LIGHT UP TOYS
• YES FACE PAINT (ALREADY APPLIED UPON ENTRY)
• YES HULA HOOPS
• YES 1 INFLATABLE POOL TOY (DEFLATED UPON ENTRY)
Wristband Distribution will take place at 10AM on the plaza (December 31st), and the line for the wristbands may begin forming at 8AM. Pat downs will begin at 4:30PM.