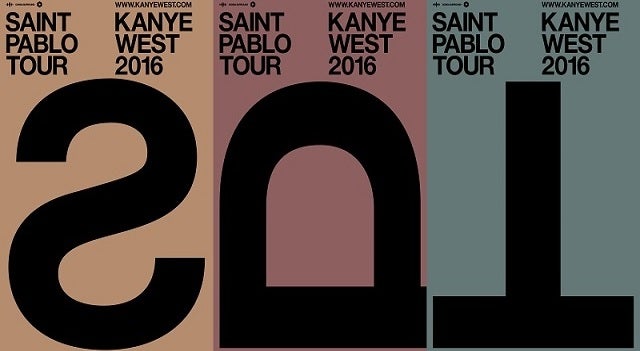 Kanye West
THE SAINT PABLO TOUR
Kanye West
THE SAINT PABLO TOUR
Sep
24
, 2016
Kanye West
THE SAINT PABLO TOUR
Date

Sep

24

, 2016

Event Starts

8:00PM

Ticket Prices

$114.50, $79.00, $59.00, $39.00, $29.50

Availability

On Sale Now
Showings
Event Info
Kanye West – the 22-time Grammy Award winning, visionary multi-disciplinary artist who has sold over 30 Million albums worldwide and has twice been named to Time Magazine's 100 most influential people in the world - today unveils details for THE SAINT PABLO TOUR.
Kanye returns to North American arenas for the first time in three years. 2013's historic Yeezus Tour saw jubilant, sold-out crowds and unprecedented acclaim. Reviewing the tour opener, the Seattle Times raved "A deific spectacle of a set…a two-hour rap-opera of a performance that was grandiose yet minimal, unsettling yet inspirational...There are very few modern artists with the kind of vision, ambition, and means to execute it as Kanye West right now…a distinct statement of his combined artistic ambition, penchant for excess, and desire to simply outdo every other entertainer out right now." "Awe-inspiring," said Rolling Stone. "Truly electrifying…The stage as imagined and executed by West was truly something to behold."
"Brilliant," raved the New York Post. "The Yeezus tour is more than just a concert. It's an extravaganza of music and theater…a combination which makes him the most fascinating musical figure of our time and makes this tour an unmissable spectacle."
With Kanye's history-making live performances continuing to innovate the concert experience and set new standards for the visual medium, THE SAINT PABLO TOUR is the most anticipated concert event of the year. Tickets go on sale this Saturday, June 18 at www.livenation.com.
Kanye West released his seventh solo album, The Life Of Pablo, to universal critical acclaim. The New York Times, on its front page, declared: "With flux embedded in its DNA, "Pablo" is crisply alive, like water that's still boiling even though the flame is off. Pay close attention to the multiple iterations and you hear an artist at work…It's everything bared — process as art." Rolling Stone raved: "a complex, conflicted masterpiece." "His devotion to the craft of album-making remains his greatest talent," Pitchfork mused. "Albums are his legacy…His ability to package hundreds of stray threads into a whole that feels not just thrilling, but inevitable - at this, he is better than everyone." And USA Today simply asked: "Is Kanye West the greatest artist of the 21st century?"
Looking for the hottest spot in Downtown Nashville to host a private event? You'll find it at the Patron Platinum Club. Check out the luxurious setting with fresh finishes and fine dining, including:
Sleek modern furniture and Chef's tables, which complement the updated menu by Chef Dario Olivera.
An HD projector and 120-inch screen.
A prime choice for music industry events, social parties, rehearsal dinners, wedding receptions and numerous corporate functions
Located on 5th Avenue near Broadway, with a private entrance in the Bridgestone Arena.