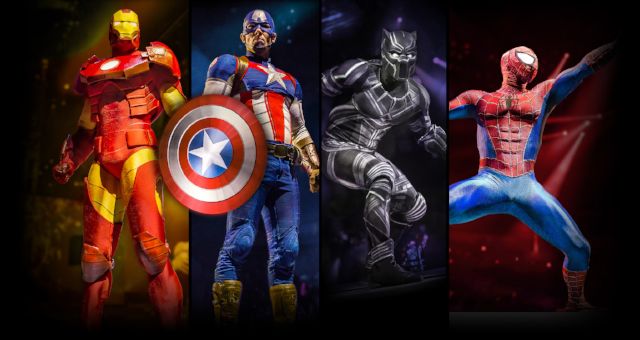 Marvel Universe LIVE!
Age of Heroes
Marvel Universe LIVE!
Age of Heroes
Dec
06
-
09
, 2018
Marvel Universe LIVE!
Age of Heroes
Showings
Event Info
Marvel fans, assemble for this live, action-packed, legendary battle to defend the universe from evil. Spider-Man, the Avengers and the Guardians of the Galaxy join forces with Doctor Strange, master of the mystic arts, in a race against time to recover the Wand of Watoomb before it falls into Loki's hands. This ancient artifact holds immeasurable mystical power and would allow Loki to achieve his eternal quest to crown himself ruler of Asgard and Earth.
This all new show unites some of Marvel's greatest Super Heroes including Iron Man, Captain America, Thor, Black Panther, Hulk and Black Widow against some of the most threatening villains. Their journey sparks new feuds with old foes, pitting student against mentor, sister against sister and brother against brother. Witness cutting-edge special effects, aerial stunts and video projection in this incredible adventure.
Fans of all ages will be immersed in the Marvel Universe and experience it all with their family…Live!
Looking for the hottest spot in Downtown Nashville to host a private event? You'll find it at the BetMGM Sports Lounge. Check out the luxurious setting with fresh finishes and fine dining, including:
Sleek modern furniture and Chef's tables, which complement the updated menu by Chef Dario Olivera.
An HD projector and 120-inch screen.
A prime choice for music industry events, social parties, rehearsal dinners, wedding receptions and numerous corporate functions
Located on 5th Avenue near Broadway, with a private entrance in the Bridgestone Arena.