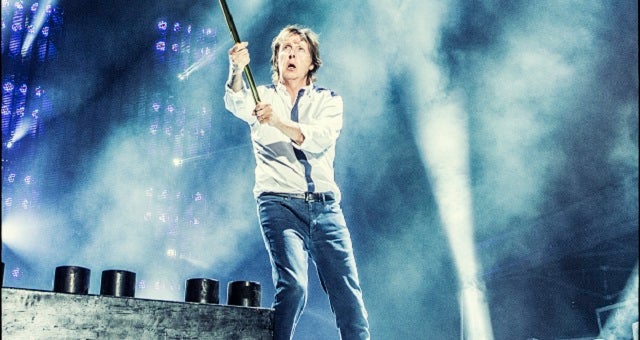 Paul McCartney - POSTPONED UNTIL OCTOBER 16, 2014
Paul McCartney - POSTPONED UNTIL OCTOBER 16, 2014
June
25
, 2014
Paul McCartney - POSTPONED UNTIL OCTOBER 16, 2014
Date

June

25

, 2014

Event Starts

8:00 PM
Showings
Event Info
The June 25 Paul McCartney tour date here at Bridgestone Arena has been rescheduled. The show is now scheduled for October 16, 2014. All tickets for the show will be honored on the new date.
"I'm sorry but it's going to be a few more weeks before we get rocking in America again. I'm feeling great but taking my docs' advice to take it easy for just a few more days. Look forward to seeing you all soon." —Paul McCartney
Paul McCartney has confirmed that he will, however reluctantly, heed medical advice to rest up just a bit longer to fully recuperate from the virus that forced the postponement of his recent dates in Japan and Korea.
The Out There world tour will now resume July 5 in Albany, NY, and the June 14-26 shows in Lubbock, Dallas, New Orleans, Atlanta, Jacksonville, Nashville and Louisville have been rescheduled to October.
The Out There tour, as always, features music from the most beloved catalog in popular music, as Paul performs songs spanning his entire career--as a solo artist, member of Wings and of course as a Beatle. The set list will also include material from Paul's most recent studio album NEW, a global hit upon its release last year.
The McCartney live experience is a once in a lifetime opportunity; in just three hours some of the greatest moments from the last 50 years of music are relived; music which for many has shaped the very soundtrack of their lives. The last decade has seen Paul and his band perform in a staggeringly impressive range of venues and locations, including outside the Coliseum in Rome, in Moscow's Red Square, Buckingham Palace, at the White House, a free show in Mexico to over 400,000 people, and even broadcast live into Space! Featuring Paul's band of the last 10+ years--Paul "Wix" Wickens (keyboards), Brian Ray (bass/guitar), Rusty Anderson (guitar) and Abe Laboriel Jr (drums)--the show never disappoints.
The tour also uses state of the art technology and production to ensure the entire audience has the best possible experience. With massive screens, lasers, fireworks, unique video content and, of course, the best songs in the world, a Paul McCartney show is so much more than just an ordinary concert. Paul's shows attract a multi- generational audience from different backgrounds all brought together by his music.
Keep checking PaulMcCartney.com for further announcements.
Looking for the hottest spot in Downtown Nashville to host a private event? You'll find it at the BetMGM Sports Lounge. Check out the luxurious setting with fresh finishes and fine dining, including:
Sleek modern furniture and Chef's tables, which complement the updated menu by Chef Dario Olivera.
An HD projector and 120-inch screen.
A prime choice for music industry events, social parties, rehearsal dinners, wedding receptions and numerous corporate functions
Located on 5th Avenue near Broadway, with a private entrance in the Bridgestone Arena.