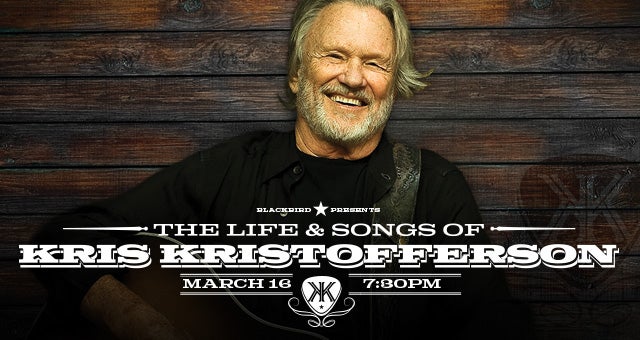 THE LIFE & SONGS OF KRIS KRISTOFFERSON
WILL FEATURE PERFORMANCES BY TOBY KEITH, HANK WILLIAMS JR., MARTINA MCBRIDE, JENNIFER NETTLES, REBA McENTIRE, ALISON KRAUSS, BUDDY MILLER, LARRY GATLIN, JESSI COLTER, SHOOTER JENNINGS, LEE ANN WOMACK, JACK INGRAM, LADY ANTEBELLUM, DIERKS BENTLEY, RYAN BINGHAM, ROSANNE CASH, ERIC CHURCH, EMMYLOU HARRIS, JAMEY JOHNSON, WILLIE NELSON, DARIUS RUCKER, TRISHA YEARWOOD AND MORE TO BE ANNOUNCED
THE LIFE & SONGS OF KRIS KRISTOFFERSON
WILL FEATURE PERFORMANCES BY TOBY KEITH, HANK WILLIAMS JR., MARTINA MCBRIDE, JENNIFER NETTLES, REBA McENTIRE, ALISON KRAUSS, BUDDY MILLER, LARRY GATLIN, JESSI COLTER, SHOOTER JENNINGS, LEE ANN WOMACK, JACK INGRAM, LADY ANTEBELLUM, DIERKS BENTLEY, RYAN BINGHAM, ROSANNE CASH, ERIC CHURCH, EMMYLOU HARRIS, JAMEY JOHNSON, WILLIE NELSON, DARIUS RUCKER, TRISHA YEARWOOD AND MORE TO BE ANNOUNCED
Mar
16
, 2016
THE LIFE & SONGS OF KRIS KRISTOFFERSON
WILL FEATURE PERFORMANCES BY TOBY KEITH, HANK WILLIAMS JR., MARTINA MCBRIDE, JENNIFER NETTLES, REBA McENTIRE, ALISON KRAUSS, BUDDY MILLER, LARRY GATLIN, JESSI COLTER, SHOOTER JENNINGS, LEE ANN WOMACK, JACK INGRAM, LADY ANTEBELLUM, DIERKS BENTLEY, RYAN BINGHAM, ROSANNE CASH, ERIC CHURCH, EMMYLOU HARRIS, JAMEY JOHNSON, WILLIE NELSON, DARIUS RUCKER, TRISHA YEARWOOD AND MORE TO BE ANNOUNCED
Date

Mar

16

, 2016

Event Starts

7:30 PM

Ticket Prices

$129.50, $99.50, $89.50, $79.50

Availability

On Sale Now
Showings
Event Info
Music stars Reba McEntire, Alison Krauss, Buddy Miller, Larry Gatlin, Jessi Colter, and Shooter Jennings have been added to the all-star lineup of
The Life & Songs of Kris Kristofferson on Wednesday, March 16, at Bridgestone Arena in Nashville, Tennessee.
The all-star concert event taping will pay tribute to the legendary singer-songwriter and actor with performances by Lady Antebellum, Dierks Bentley, Ryan Bingham, Rosanne Cash, Eric Church, Emmylou Harris, Jack Ingram, Jamey Johnson, Toby Keith, Martina McBride, Willie Nelson, Jennifer Nettles, Darius Rucker, Hank Williams Jr., and Lee Ann Womack. Kristofferson will take the stage to perform with a number of special guests throughout the evening.
A final block of great seats is now available at Ticketmaster.com, by phone at 800-745-3000, at all Ticketmaster locations and at the Bridgestone Arena box office. Citi is the official credit card of The Life & Songs of Kris Kristofferson.
Proceeds from a range of charity initiatives will benefit the T.J. Martell Foundation, the official charity partner of the show. For more information, visit http://songsofkristofferson.com/charitybuzz. The T.J. Martell Foundation, the music industry's largest foundation, funds innovative medical research focused on finding cures for leukemia, cancer and AIDS. For more information, visit www.TJMartell.org.
Kristofferson, a Country Music Hall of Fame member, is considered a true poet who helped modernize the genre with songs such as "Sunday Mornin' Comin' Down," "Help Me Make It Through the Night," "Me and Bobby McGee" and "Lovin' Her Was Easier." These are the songs of heartbreak and despair, of love and loss, of yearning and hope. These are the songs so honest that we adopted them as our own. They are the songs of a life led unlike any other: An All-American athlete, Golden Gloves boxer, Army Ranger, helicopter pilot, singer-songwriter, social activist, humanitarian and movie star.
Keith Wortman is creator and executive producer of the show. Grammy Award-winner Don Was will serve as music director and will lead an all-star band that includes featured artist and Grammy Award-winner Buddy Miller backing the performers at this incomparable concert event taping. The Life & Songs of Kris Kristofferson will be filmed and recorded for multi-platform distribution throughout traditional media (worldwide broadcast, music and digital).
FOR ALL SHOW DETAILS AND THE OFFICIAL CONCERT EVENT WEBSITE, PLEASE VISIT:
#songsofkristofferson
About Kris Kristofferson:
Kristofferson is a Country Music Hall of Famer who ranks among the most versatile of American talents. He's been a Golden Gloves boxer, a Rhodes scholar, a college football player, an acclaimed actor, a military officer, a helicopter pilot, a Grammy-winner, and an icon. It was the singing and the writing that called to him. He wound up penning classics including "Me and Bobby McGee," "Help Me Make It Through the Night," "Sunday Mornin' Comin' Down" and "For The Good Times," as well as a slew of other empathetic, incisive gems. Kristofferson— along with contemporaries Tom T. Hall, Mickey Newbury, Willie Nelson and John Prine— enhanced the scope of country music songwriting, focusing on layering, nuance, empathy and emotional truth. Once established, he quickly became one of music's most charismatic and intriguing figures. Kristofferson went on to a prolific acting career with roles in "A Star is Born," "Alice Doesn't Live Here Anymore," "Blade" and many more films.
Looking for the hottest spot in Downtown Nashville to host a private event? You'll find it at the BetMGM Sports Lounge. Check out the luxurious setting with fresh finishes and fine dining, including:
Sleek modern furniture and Chef's tables, which complement the updated menu by Chef Dario Olivera.
An HD projector and 120-inch screen.
A prime choice for music industry events, social parties, rehearsal dinners, wedding receptions and numerous corporate functions
Located on 5th Avenue near Broadway, with a private entrance in the Bridgestone Arena.