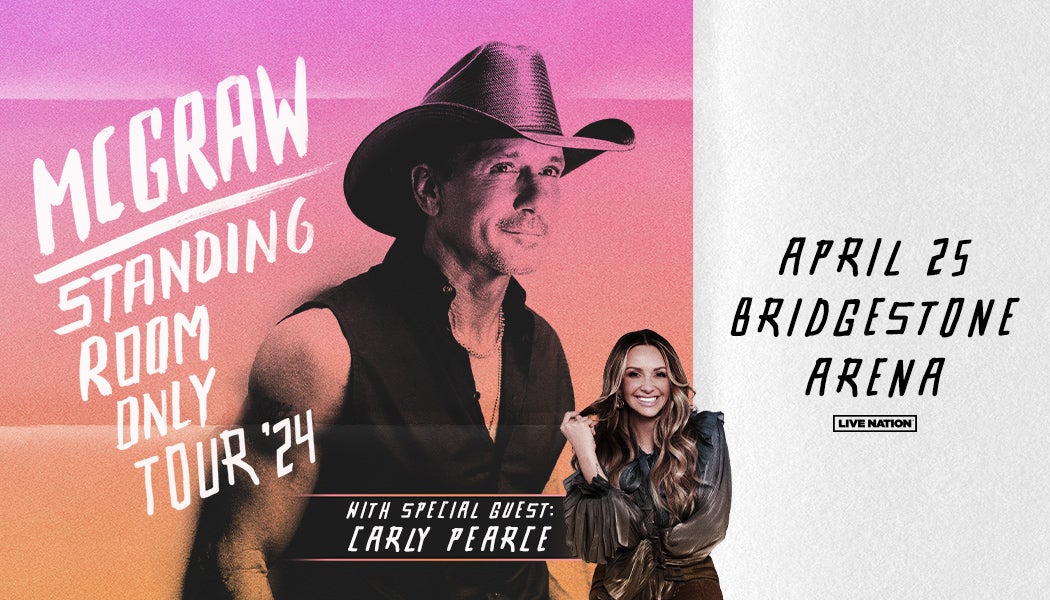 Tim McGraw: Standing Room Only Tour 2024
with special guest Carly Pearce
Tim McGraw: Standing Room Only Tour 2024
with special guest Carly Pearce
Apr
25
, 2024
Tim McGraw: Standing Room Only Tour 2024
with special guest Carly Pearce
Date

Apr

25

, 2024

Event Starts

7:00 PM

Availability

On Sale Now

Parking

Pinnacle Parking

Premium Options

Lexus Lounge
Showings
Event Info
About Tim McGraw
Tim McGraw has sold more than 90 million records worldwide and dominated the charts with 46 worldwide No. 1 singles and 19 worldwide No. 1 albums. He's won 3 Grammy Awards, 21 Academy of Country Music Awards, 14 Country Music Association Awards. His iconic career achievements include being named BDS Radio's Most Played Artist of the Decade for all music genres and having the Most Played Song of the Decade for all music genres. He is the most played country artist at radio since his debut in 1992, with two singles spending 10 weeks or more at No. 1. Known for his high energy concerts, he is one of the top touring artists of all time including the record-setting "Soul2Soul" tours with his wife, Faith Hill. An acclaimed actor, McGraw starred in and narrated the hit movie "The Shack" and co-wrote and performed the closing credit song for the Oscar winning documentary "Free Solo." His other movie credits include blockbuster hits "Friday Night Lights" and "The Blind Side. McGraw starred beside Sam Elliott and his wife Faith Hill in the Yellowstone prequel and three-time Emmy nominated 1883. McGraw has co-authored two New York Times Best Selling books, Songs of America: Patriotism, Protest and the Music that Made a Nation with Jon Meacham and fitness book Grit & Grace: Train the Mind, Train the Body, Own Your Life. As part of the host committee, McGraw welcomed the largest outdoor crowd in Nashville history to his performance at the 2019 NFL Draft. He also appeared in the NFL Tailgate Party for Super Bowl LII and the College Football Playoffs 2020. His newest single, "Standing Room Only," just launched with the most first-week streams of any track in McGraw's career.
(TW/IG: @TheTimMcGraw, FB: TimMcGraw, timmcgraw.com)
For enhanced safety and speed of entry, we strongly discourage guests from bringing bags to events. All fans are urged to arrive early and travel light.
If a bag is necessary, the following restrictions and processes apply:
Backpacks of any size are considered prohibited items and are NOT allowed into the arena.
Bags that measure larger than 12"x12"x6" are prohibited and are NOT allowed into the arena.
Bags that measure between 6"x4"x1.5" and 12"x 12"x6" (including clear bags and Nashville Locker Room bags) are subject to x-ray screening and visual inspection.
Bags that measure smaller than 6" x 4" x 1.5" may proceed through express screening lanes for visual inspection.
Diaper bags and bags needed for medical reasons are allowed but will be subject to x-ray screening.
We kindly ask that you reach out to Bridgestone Arena Customer Service (accessibilityservices@powersmgmt.com) 24 hours prior to your event if you want to arrange for additional accommodations before arrival.
Reminder: Patrons with prohibited items will not be permitted entry to the arena. Bridgestone Arena does not provide on-site storage. Guests are asked to plan accordingly and allow for extra time when arriving at Bridgestone Arena.
Exceptions to this bag policy may be made for extenuating circumstances such as medical needs and diaper bags. Please contact Bridgestone Arena if you require additional information or guidance at customerservice@nashvillepredators.com or 615-770-2000.