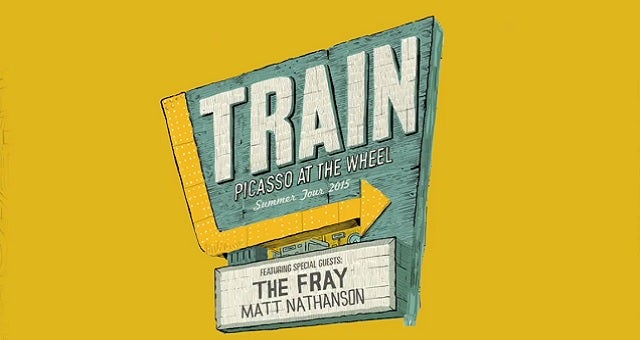 Train
Picasso At The Wheel Tour w/ The Fray & Matt Nathanson
Train
Picasso At The Wheel Tour w/ The Fray & Matt Nathanson
July
10
, 2015
Train
Picasso At The Wheel Tour w/ The Fray & Matt Nathanson
Date

July

10

, 2015

Event Starts

7:00 PM

Ticket Prices

$79.50, $59.50, $39.50, $29.50

Availability

On Sale Now
Showings
Event Info
Train has successfully traveled the nearly-unnavigable path of a contemporary, hit-making rock band while keeping their heads. The climb to the top began in San Francisco in 1994. The original 5-member band tenaciously built a loyal following, leading up to their own self-titled debut album, released by Columbia in 1998. The tumbling wordplay of "Meet Virginia" gave them their first unlikely radio hit, with 2001's Drops Of Jupiter garnering multi-platinum status thanks to the double-Grammy winning title song that spent 10 months in the Top 40. In their typical 'you-gotta'-nail-it-down-motherfucker' style, the quixotic song snared the Best Rock Song trophy by beating out Coldplay and two U2 songs.
The group won another Grammy in 2011 for their global hit "Hey Soul Sister," the #1 best-selling smash and most downloaded single of 2010, from their multi-platinum album Save Me, San Francisco. Their most recent album, 2012's California 37 launched the hit "Drive By," which reached the Top 10 in 13 countries. They've sold more than 10 million albums worldwide, more than 30 million tracks, with multiple platinum/gold citations, including 3 Grammy Awards, 2 Billboard Music Awards and dozens of other honors. Additionally, Train's award-winning Save Me, San Francisco Wine Co. has recently released their 6th varietal, 'Bulletproof Picasso' sauvignon blanc. Proceeds from the wine support Family House, a San Francisco charity that supports families of children with cancer and other life-threatening illnesses.
Looking for the hottest spot in Downtown Nashville to host a private event? You'll find it at the BetMGM Sports Lounge. Check out the luxurious setting with fresh finishes and fine dining, including:
Sleek modern furniture and Chef's tables, which complement the updated menu by Chef Dario Olivera.
An HD projector and 120-inch screen.
A prime choice for music industry events, social parties, rehearsal dinners, wedding receptions and numerous corporate functions
Located on 5th Avenue near Broadway, with a private entrance in the Bridgestone Arena.