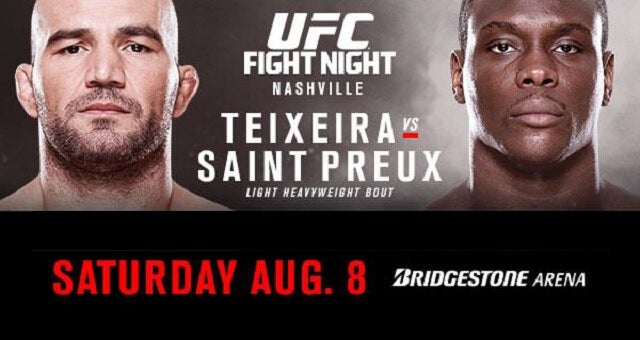 UFC Fight Night
TEIXEIRA vs. SAINT PREUX
UFC Fight Night
TEIXEIRA vs. SAINT PREUX
Aug
08
, 2015
UFC Fight Night
TEIXEIRA vs. SAINT PREUX
Date

Aug

08

, 2015

Event Starts

7:00 PM

Availability

On Sale Now
Showings
Event Info
The Octagon® will touch down in Tennessee for the fourth time on Saturday, August 8 with a battle of top-10 light heavyweights when fifth-ranked Glover Teixeira collides with former University of Tennessee football player, No. 6 Ovince Saint Preux. UFC FIGHT NIGHT®: TEIXEIRA vs. SAINT PREUX marks the promotion's third trip to Nashville and first since January 2012.
With new champion Daniel Cormier sitting atop the UFC® light heavyweight division, the stakes are high and both Teixeira (22-4, fighting out of Rio de Janeiro, Brazil) and Saint Preux (18-6, fighting out of Knoxville, Tenn.) are within striking distance of a shot at Cormier's world title. Having trained under Hall of Famer Chuck Liddell, Teixeira is a double threat with striking and a black belt in Brazilian Jiu-Jitsu. The dynamic style and punching power of the ever improving Saint Preux makes him a threat wherever the fight goes.

In addition, two of the lightweight division's brightest young stars will clash in their effort to make a name for themselves in one of the most talent-rich weight classes. Fifth-ranked Michael Johnson (17-8, fighting out of Boca Raton, Fla.) looks for his fifth-straight win when he meets submission ace Beneil Dariush (11- 1, fighting out of Yorba Linda, Calif.). The No. 14 lightweight is a world champion jiu-jitsu player and will look to counter Johnson's devastating striking with his feared ground game. The event will also feature a showdown between two of the top female fighters in the world when No. 4 Sara McMann (8-2, fighting out of Gaffney, S.C.) and No. 8 Amanda Nunes (10-4, fighting out of Miami, Fla.) meet. McMann is an Olympic silver medalist in wrestling, while Nunes is a highly decorated jiu-jitsu black belt who has finished all 10 of her professional victories, eight in the first round.

Additional bouts include:
Knoxville native and undefeated lightweight Scott Holtzman (7-0, fighting out of Knoxville, Tenn.) makes his UFC debut against Greece's Anthony Christodoulou (12-5, fighting out of Athens, Greece).

Bantamweight submission specialist Marlon Vera (6-2-1, fighting out of Albuquerque, N.M.) meets Roman Salazar (9-3, fighting out of Scottsdale, Ariz.), who will be making his fourth appearance under the UFC banner.

Knockout artist Jared Cannonier (7-1, fighting out of Glendale, Ariz.), who has finished six of his seven victories, will meet UFC light heavyweight newcomer Jonathan Wilson (6-0, fighting out of San Bernardino, Calif.).

Former Oklahoma State University NCAA Div. 1 wrestler Jared Rosholt (12-2, fighting out of Arlington, Texas) vs. hard hitting heavyweight Timothy Johnson (9-1, fighting out of Fargo, N.D.) who is two months removed from a first-round KO victory in his UFC debut.
For the latest information on additional bouts for this event, please visit www.ufc.com. *All bouts live and subject to change.