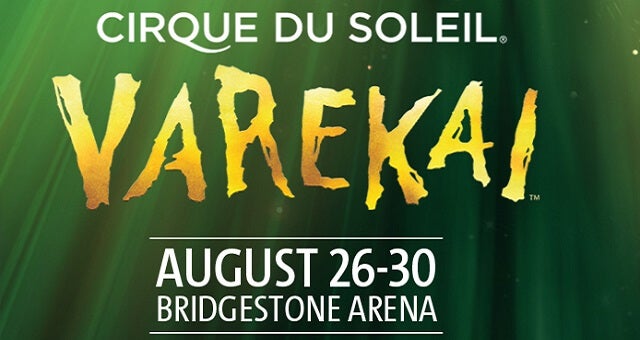 Showings
Event Info
A dormant volcano, a mystical forest and an ancient prophecy... the adventure of Icarus begins when Varekai, Cirque du Soleil's latest arena touring production, descends from the sky and into the Bridgestone Arena, for seven performances only – August 26-30, 2015!
Deep within a forest, at the summit of a volcano, exists an extraordinary world - a world where something else is possible. A world called Varekai.
The story of Varekai begins as Icarus, a solitary young man, falls from the sky and lands in a lush, wonderous world called Varekai.

Parachuted into the shadows of a magical forest – a kaleidoscopic world imbued with fantastical creatures – Icarus takes flight in an adventure both absurd and extraordinary. At the edge of time, in a place of pure and undiluted possibility, begins an inspired incantation to a life rediscovered and to a newly found wonder in the mysteries of the world and the mind.
The word Varekai (pronounced ver•ay•'kie) means "wherever" in the Romany language of the gypsies the universal wanderers. Directed by Dominic Champagne, this production pays tribute to the nomadic soul, to the spirit and art of the circus tradition, and to those who quest with infinite passion along the path that leads to Varekai.
Looking for the hottest spot in Downtown Nashville to host a private event? You'll find it at the Patron Platinum Club. Check out the luxurious setting with fresh finishes and fine dining, including:
Sleek modern furniture and Chef's tables, which complement the updated menu by Chef Dario Olivera.
An HD projector and 120-inch screen.
A prime choice for music industry events, social parties, rehearsal dinners, wedding receptions and numerous corporate functions
Located on 5th Avenue near Broadway, with a private entrance in the Bridgestone Arena.