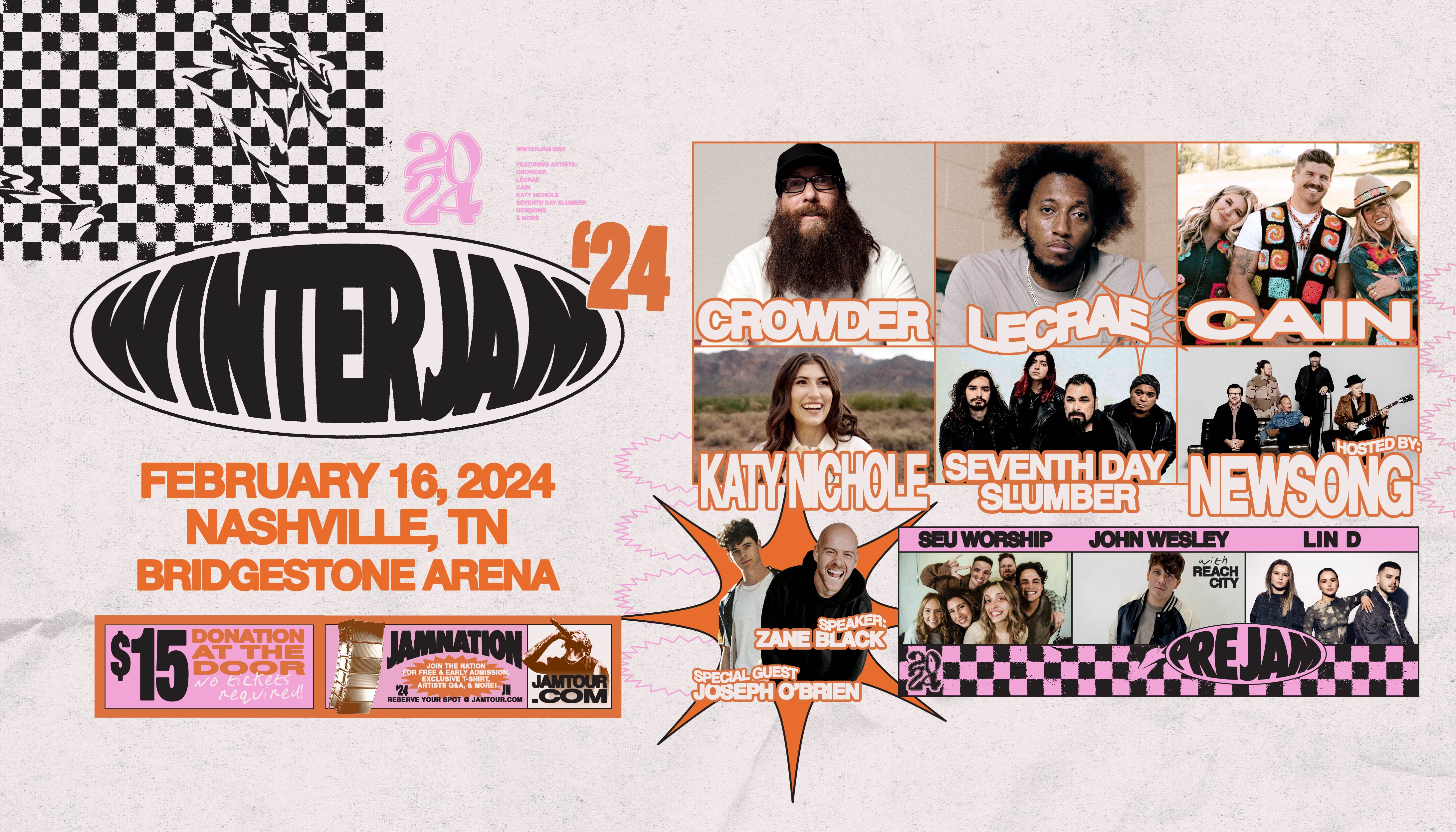 Winter Jam 2024
featuring Crowder, Lecrae, Cain, Katy Nichole & more
Winter Jam 2024
featuring Crowder, Lecrae, Cain, Katy Nichole & more
Feb
16
, 2024
Winter Jam 2024
featuring Crowder, Lecrae, Cain, Katy Nichole & more
Date

Feb

16

, 2024

Event Starts

7:00 PM

Doors Open

5:30 PM
Showings
Event Info
Get ready for Crowder, Lecrae, Cain, Katy Nichole & more for only $15 at the door! No tickets required! For more information visit jamtour.com!
About Winter Jam: Winter Jam was founded over 20 years ago by Christian music group NewSong. The tour has stayed true to its original mission of low donation at the door to allow as many people as possible to hear the gospel. Winter Jam has consistently ranked in Pollstar's top tours and has taken the number one spot several years. Promoted by Premier Productions, the tour hits the road again in 2024.

About Premier Productions: Founded in 1996, Premier Productions has sold over 20 million tickets to patrons. Premier has been a Top 20 global promoter and has produced more than 2,000 concerts and events in the past five years. Pollstar named Premier the #1 faith and family independent promoter in the last 10 years. Producing events that move the soul both nationally and internationally, Premier is proud to have helped raise more than $271 million to improve the lives of children and communities in 100+ countries worldwide. Whether it's a large multi-day festival, sold-out concert or intimate conference, Premier seeks to positively impact the lives of every attendee so they leave encouraged, happy and hopeful.
For enhanced safety and speed of entry, we strongly discourage guests from bringing bags to events. All fans are urged to arrive early and travel light.
If a bag is necessary, the following restrictions and processes apply:
Backpacks of any size are considered prohibited items and are NOT allowed into the arena.
Bags that measure larger than 12"x12"x6" are prohibited and are NOT allowed into the arena.
Bags that measure between 6"x4"x1.5" and 12"x 12"x6" (including clear bags and Nashville Locker Room bags) are subject to x-ray screening and visual inspection.
Bags that measure smaller than 6" x 4" x 1.5" may proceed through express screening lanes for visual inspection.
Diaper bags and bags needed for medical reasons are allowed but will be subject to x-ray screening.
We kindly ask that you reach out to Bridgestone Arena Customer Service (accessibilityservices@powersmgmt.com) 24 hours prior to your event if you want to arrange for additional accommodations before arrival.
Reminder: Patrons with prohibited items will not be permitted entry to the arena. Bridgestone Arena does not provide on-site storage. Guests are asked to plan accordingly and allow for extra time when arriving at Bridgestone Arena.
Exceptions to this bag policy may be made for extenuating circumstances such as medical needs and diaper bags. Please contact Bridgestone Arena if you require additional information or guidance at customerservice@nashvillepredators.com or 615-770-2000.