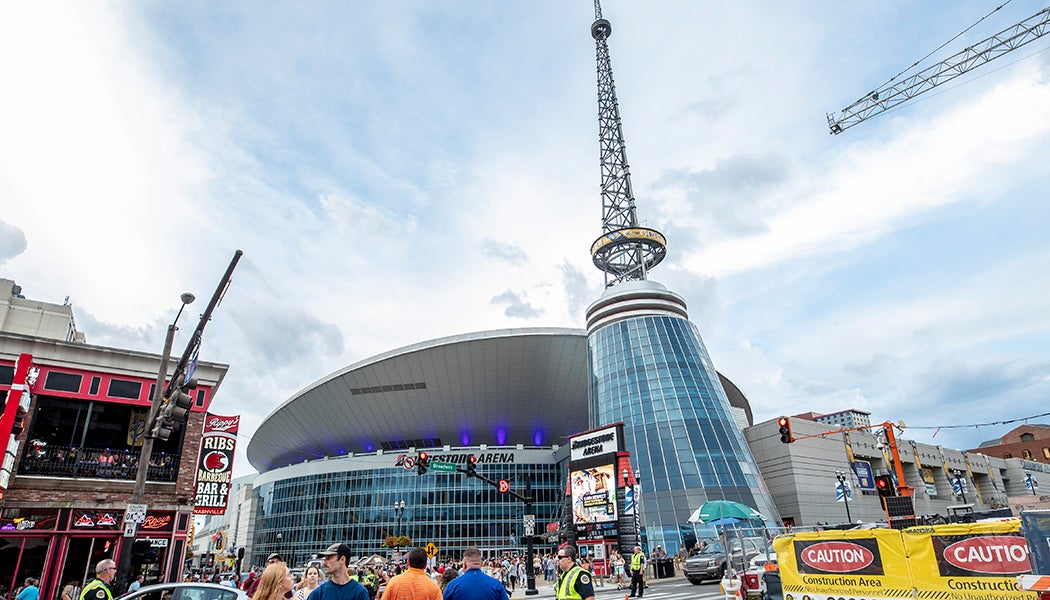 BRIDGESTONE ARENA NOMINATED BY IEBA AS VENUE OF THE YEAR, KELLS FOR EXECUTIVE OF THE YEAR
The International Entertainment Buyers Association (IEBA) handed out nominations for their annual awards on Wednesday, and Bridgestone Arena was nominated for Venue of the Year, while Senior Vice President of Marketing and Entertainment David Kells was nominated for the Venue Executive of the Year award.
The IEBA is the leading non-profit trade organization for live entertainment industry professionals, and works to help members improve relationships and increase revenue through offering its members networking and education opportunities. The Association will hold its 49th annual conference at the J.W. Marriott Nashville from Oct. 27-30, with the Honors and Awards Ceremony taking place on the evening of Oct. 29.
"We are honored to once again be nominated for Arena of the Year," Kells said. "The award is a credit to each of our employees who work toward the building's success, and it is voted on by industry peers, so it's the people who are fluent in the nuances of our industry, which makes it all the more special. Also thank you to the Nashville and live touring community who make Bridgestone Arena a special stop on every tour. Without them the lights on Broadway would not shine as bright."
"We are incredibly proud of David Kells, who has built unique partnerships with tours, agents, managers and promoters through his tireless work ethic and innovative strategies, bringing unmatched success to Bridgestone Arena since assuming the position," Bridgestone Arena President and CEO Sean Henry said. "He is an invaluable member of our team, and each time we are recognized by our peers, individually or as an organization, we close in on our ultimate goal of becoming the Number One venue in the country."
Bridgestone Arena has won the IEBA Venue of the Year award on four previous occasions, most recently in 2017. Already in 2019, Bridgestone Arena has extended its Nashville Predators sellout streak to 153 games, hosted a record-breaking SEC Men's Basketball Tournament, and many other sold-out concerts and shows including Metallica, Jimmy Buffett and Michael Bublé. The Arena is again undergoing a round of renovations during the summer of 2019, highlighted by a new center-hung scoreboard, bring the total invested in the building to $80 million in the last eight years.
For Kells, he has previously won the IEBA Venue Executive of the Year award in 2014 and 2016, in addition to several other industry awards since assuming the position as Vice President of Booking in January 2012. Kells, who has been with Bridgestone Arena and the Nashville Predators since 2005, has also served as the Conversion Manager, Event Manager, Director of Marketing for the Arena.