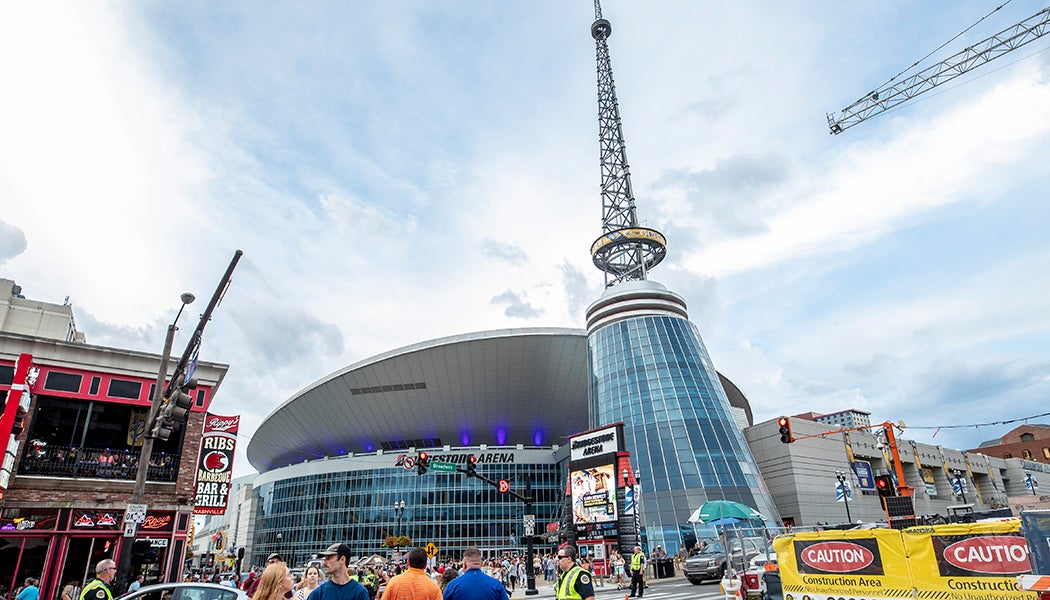 Bridgestone Arena Nominated for 2019 Arena of the Year by Pollstar Magazine
David Kells, SVP of Marketing and Entertainment, earns seventh Venue Executive of the Year nomination
Pollstar Magazine announced that Bridgestone Arena, home of the National Hockey League's Nashville Predators, has been nominated Arena of the Year for 2019. This is Bridgestone Arena's 13th straight and 16th overall nomination for the award. Also, Nashville Predators Senior Vice President of Marketing and Entertainment David Kells has been nominated Venue Executive of the Year for the seventh time in his career.
"We're extremely proud to have received our 13th consecutive Pollstar nomination for Arena of the Year and thank David Kells for his tireless efforts dedicated to creating the incredible environment that Bridgestone Arena offers to agents, managers, performers, promoters and fans," Nashville Predators President and CEO Sean Henry said. "It is a tribute to our passionate fans and patrons who continue to choose Bridgestone Arena – giving us the opportunity to receive the Arena of the Year nomination, while David has earned such a high level of respect and admiration from everyone he interacts with. The volume and variety of shows that he brings to arena, alongside his approach to the planning and execution of each unique event, play an integral role in our goal of becoming the No. 1 sports and entertainment venue and franchise in the United States."
Following a summer highlighted by more than $8 million in renovations, Bridgestone Arena ranked sixth in the United States and 14th in the world for concert ticket sales, according to international trade publication Pollstar's Third Quarter Ticket Sales report released in late September. Pollstar announced Bridgestone Arena ticket sales as 526,112, inclusive solely of show and concert tickets – more than 140,000 above the 2018 third quarter report.
Pollstar's Arena of the Year award recognizes the arena that showcased superior programming, effective promotion and marketing, quality production values and staff, an exemplary experience for fans and artists and consistent box office success. The Pollstar Venue Executive of the Year award recognizes the venue executive who exhibited integrity, operational competence, marketing savvy, can-do attitude, flexibility, calm under stress and business acumen.
2019 Pollstar Arena of the Year Nominees:
Barclays Center, Brooklyn, N.Y.

BOK Center, Tulsa, Okla.

Bridgestone Arena, Nashville, Tenn.

Madison Square Garden, New York City, N.Y.

Staples Center, Los Angeles, Calif.

The Forum, Inglewood, Calif.
2019 Pollstar Venue Executive of the Year Nominees:
Casey Sparks, BOK Center

David Kells, Bridgestone Arena

Eric Bresler, Chase Center

Geni Lincoln, The Forum

Keith Sheldon, Barclays Center

Laurie Jacoby, Madison Square Garden

Raj Saha, Fiserv Forum
Pollstar Magazine focuses primarily on the concert industry and also reports on news regarding sports and entertainment. The nominating committee is comprised of industry leaders in all facets of the entertainment business, including arena managers, artists, artist managers, agents and promoters from across the country and abroad.
The 31st Annual Pollstar Awards ceremony will take place on Feb. 6, 2020 at the Pollstar Live! Conference in Beverly Hills, Calif.
To receive regular updates on upcoming events at Bridgestone Arena go to BridgestoneArena.com. For more information on the Nashville Predators, game schedule and ticket availability, please visit NashvillePredators.com.