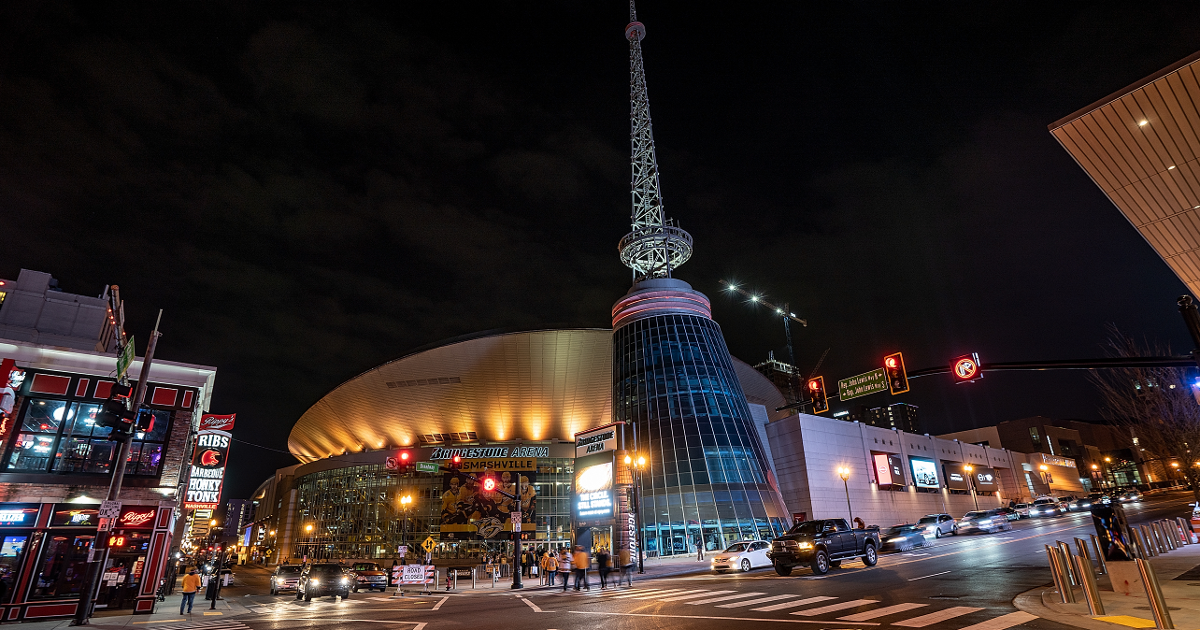 Bridgestone Arena Nominated for Pollstar Arena of the Decade Award
Nashville, Tenn. (April 26, 2021) - Pollstar Magazine recently announced that Bridgestone Arena - home of the National Hockey League's Nashville Predators and numerous national and international events - has been nominated as Arena of the Decade. This award celebrates the arena that showcased superior talent booking, effective promotion, quality production values and staff, an exemplary experience for fans and artists, and consistent box office success over the last 10 years.
First opening in 1996 as Nashville Arena, Bridgestone Arena has the distinction of being one of the busiest venues in the United States, hosting more than 25.6 million guests throughout its existence. As a premier destination for sports and entertainment fans of all kinds, Bridgestone Arena has been nominated for Pollstar's Arena of the Year award 16 times, with 13 consecutive nominations from 2007 to 2019 and wins in 2014 and 2017. Nashville Predators and Bridgestone Arena EVP of Entertainment & Venues David Kells was also named Pollstar's Venue Executive of the Year in 2017, having been nominated on six prior occasions.
"Over the past 10 years and beyond, it has been truly remarkable to witness the positive impact that Bridgestone Arena's growth and success have had on Downtown Nashville and the Middle Tennessee community," Kells said. "Our organization is honored to receive Pollstar's Arena of the Decade nomination, and we would not be in contention for this prestigious award without the endless support of millions of fans and the tireless efforts of countless artists, managers, agents, promoters, entertainment industry professionals, partners and local government officials among many others. As we reflect on a decade's worth of amazing memories made at Bridgestone Arena, we also look forward to hosting sold-out crowds and events again very soon as a result of increasing COVID-19 vaccine distribution and continued adherence to all health and safety protocols."
According to Pollstar, with COVID-19 bringing a halt to traditional live events - resulting in a dearth of major tours, festivals, venue activity and touring-based artist development - the trade publication is dedicating the 32nd Annual Pollstar Awards to celebrating the most commercially and artistically successful artists, venues and events over the last decade, as determined by Pollstar's box office data and prior awards voting history.
In its 2020 Year-End Ticket Sales report, which was significantly impacted by the onset of the ongoing coronavirus pandemic, Pollstar listed Bridgestone Arena as seventh in the United States and 16th in the world for ticket sales, inclusive solely of show and concert tickets. In 2017, with Pollstar's ranking of fourth in the U.S. and 12th in the world, Bridgestone Arena earned its highest domestic finishing position and tied its 2015 global ranking.
Voting for the 2021 Pollstar Awards is open now through May 14 at 7 p.m. CT to magazine subscribers, and the winner will be announced at the 32nd Annual Pollstar Awards on June 16 in Los Angeles as part of the 2021 Pollstar Live! Conference.
2021 Pollstar Awards Arena of the Decade Nominees:
Allstate Arena - Rosemont, Ill.
American Airlines Center - Dallas, Texas
Madison Square Garden - New York, N.Y.
Scotiabank Arena - Toronto, Ont.
Staples Center - Los Angeles, Calif.
The Forum - Inglewood, Calif.
Wells Fargo Center - Philadelphia, Pa.
Other Nashville-area venues and events that were nominated for the 2021 Pollstar Awards include Bonnaroo Music & Arts Festival (Music Festival of the Decade), Opry Live (Best Livestream Event/Virtual Festival), Brooklyn Bowl Nashville, City Winery Nashville and The Ryman Auditorium & Grand Ole Opry (Best Livestreaming Venue).
Pollstar Magazine focuses primarily on the concert industry and reports on news regarding sports and entertainment. The nominating committee is comprised of industry leaders in all facets of the entertainment business, including arena managers, artists, artist managers, agents and promoters from across the country and abroad.
In addition to consistently earning Pollstar Arena of the Year nominations and wins, Bridgestone Arena has also won several other Venue of the Year awards, including five from the International Entertainment Buyers Association (2008, 2010, 2015, 2017, 2019), five from the Academy of Country Music (2009, 2011, 2013, 2016, 2018) and two from the Country Music Association (2017, 2019).
To receive regular updates on upcoming events at Bridgestone Arena go to BridgestoneArena.com. For more information on the Nashville Predators, game schedule and ticket availability, please visit NashvillePredators.com.