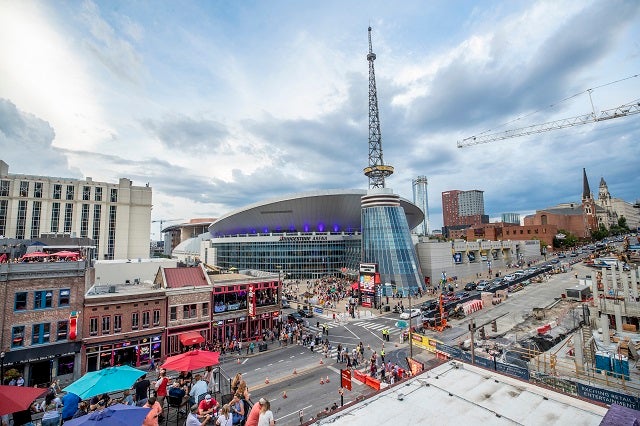 Bridgestone Arena Nominated Pollstar Arena Of The Year
Nashville Tenn. (December 6, 2018) – Bridgestone Arena, home of the National Hockey League's Nashville Predators, has been nominated Arena of the Year by Pollstar Magazine for the 15th time in building history. Additionally, Nashville Predators Senior Vice President of Marketing and Entertainment David Kells has been nominated Venue Executive of the Year for the sixth time in his career.
"It is remarkable how quickly David has garnered the respect and admiration from all he interacts with, from agents to managers to performers to promoters and to all of his colleagues, the appreciation for how he approaches his role and the industry is universal" Nashville Predators President and CEO Sean Henry said. "There is no wonder that he and the Arena have been nominated every year that he has been in this role. He takes a unique approach to every event, interaction and goals for our events, and it shows in the type of and volume of shows we do and how incredible memories are built for all that enter Bridgestone Arena, whether through our guest entrances, the loading dock or the employee entrance; he has created a special environment. David lies at the center of our efforts to run the No. 1 sports and entertainment venue and franchise in the United States."
Having each won their respective category in 2017, both Kells and Bridgestone Arena stand to earn second consecutive recognitions at the 2018 awards ceremony. Bridgestone Arena's first Arena of the Year win was awarded in 2014.
"It is always an honor to receive these nominations," Kells said. "We truly appreciate the support of artists, agents, managers and promoters within the music business who trust us with their acts. It couldn't be done without the incredible support of the best fans in the industry, our Bridgestone Arena staff, front of house staff, back of house staff and everyone in between."
When Nashville Predators Chairman and Owner Tom Cigarran developed the organization's ONE GOAL of becoming the No. 1 sports and entertainment venue in the United States with the Stanley Cup Champion Nashville Predators as its centerpiece in 2010, the statement seemed too bold amongst industry veterans. Cigarran and the entire organization instead took their ultimate goal and spoke their achievements into existence, working each year to be recognized more and more for their dedication to the industry, to the community of Nashville and the individuals who make up the Smashville community.
Pollstar Magazine focuses primarily on the concert industry and also reports on news regarding sports and entertainment. The nominating committee is comprised of industry leaders in all facets of the entertainment business, including: arena managers, artists, artist managers, agents and promoters from across the country and abroad.
Bridgestone Arena underwent close to $12 million in renovations last summer, bringing the total to over $70 million in improvements over the last seven years. Renovations included brand new LED ribbon boards, sound system upgrades, expansion of premium hospitality areas, additional concessions locations and a new point-of-sale system for all food and beverage stands.
The 30th Annual Pollstar Awards ceremony will take place on Feb. 13 at the Pollstar Live! Conference in Beverly Hills, Calif.
To receive regular updates on upcoming events at Bridgestone Arena go to bridgestonearena.com. For more information on the Nashville Predators, game schedule and ticket availability, please visit nashvillepredators.com.