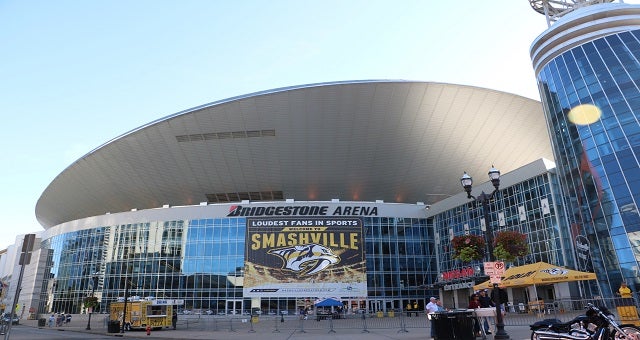 Bridgestone Arena Ranked Fourth in US by Pollstar Magazine
Nashville Tenn. (January 9, 2018) – Bridgestone Arena, home of the National Hockey League's Nashville Predators, ranks fourth in the United States and 12th in the world for concert ticket sales, according to Pollstar's Year-End Ticket Sales report released in January. Pollstar announced Bridgestone Arena ticket sales as 714,439 inclusive of solely show and concert tickets, from 56 performances and 27 sold-out shows. When including the SEC Men's Basketball Tournament and Nashville Predators home hockey games, Bridgestone Arena has hosted nearly 2 million people in the building year to date.
The 2017 Pollstar ranking is the highest domestic finishing position Bridgestone Arena has seen and ties its 2015 global ranking. This year Bridgestone Arena had 122,485 more people attend concerts than in 2016 and bested its previous high from 2015 by 99,882.
"This ranking is a direct reflection of the incomparable support we receive from all the fans who attend events at Bridgestone Arena," Senior Vice President of Booking David Kells said. "As we continue to strive toward our ONE GOAL of becoming the No. 1 sports and entertainment venue in the United States, we would like to thank everyone who supports the quality entertainment at Bridgestone Arena and those who work hard to create an amazing environment for fans, including the artists, managers, agents, promoters and everyone in the entertainment community who has brought their tour to our venue."
Pollstar Magazine focuses primarily on the concert industry and also reports on news regarding sports and entertainment. The nominating committee is comprised of industry leaders in all facets of the entertainment business, including: arena managers, artists, artist managers, agents and promoters from across the country and abroad.
Pollstar's Top-10 U.S. Venues (Show & Concert Ticket Sales):
1.) Madison Square Garden (New York, N.Y.)

2.) Barclays Center (Brooklyn, N.Y.)
​
3.) Forum (Inglewood, Calif.)
4.) Bridgestone Arena
5.) Prudential Center (Newark, N.J.)
6.) AmericanAirlines Arena (Miami, Fla.)
7.) Allstate Arena (Rosemont, Ill.)
8.) American Airlines Center (Dallas, Texas)
9.) Capital One Arena (Washington, D.C.)
10.) Amalie Arena (Tampa, Fla.)
Bridgestone Arena underwent close to $6 million in renovations last summer, which included the completion of entirely new food and beverage areas, renovated concessions locations, over 20 new point-of-sale locations in the Upper Bowl and close to 80 charging ports with USB and Edison outlets. This October, Bridgestone Arena received the International Entertainment Buyers Association's 2017 Arena of the Year, and is again up for Pollstar Arena of the Year in 2018.
Serving as the home for numerous national and international events, Bridgestone Arena has the distinction of being one of the busiest venues in the United States over the past decade and a half.