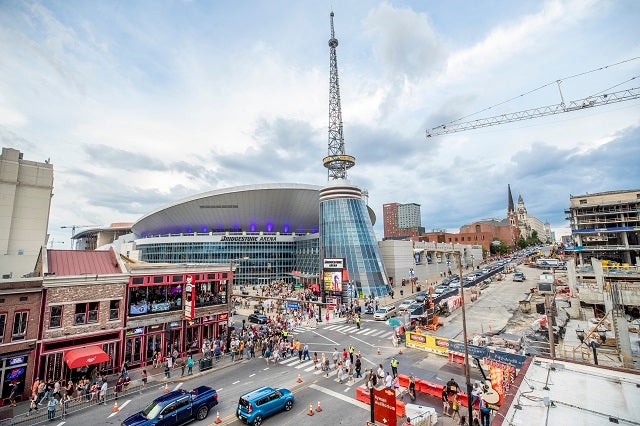 Bridgestone Arena Ranked Fourth In US By Pollstar Magazine
Press Release
Nashville Tenn. (October 5, 2018) – Bridgestone Arena, home of the National Hockey League's Nashville Predators, ranks fourth in the United States and 17th in the world for concert ticket sales, according to Pollstar's Q3 Rankings released in October. Pollstar announced Bridgestone Arena ticket sales as 382,344 inclusive of solely show and concert tickets, from Pollstar announced Bridgestone Arena ticket sales as 382,344 inclusive of solely show and concert tickets, from 70 performances and 16 sold-out shows.
When including the SEC Women's Basketball Tournament, NCAA Division I Men's Basketball Championships and Nashville Predators home hockey games, Bridgestone Arena has hosted nearly 2 million people in the building year to date.
"We are incredibly proud to have an incomparable team inside Bridgestone Arena who catapult us into the Top 10 ranking each year," Senior Vice President of Marketing and Entertainment David Kells said. "Being recognized as one of the busiest venues in the world is a direct result of our organization's tireless determination to achieve our ONE GOAL, which could not be done without the dedication of our passionate fans, to make Smashville such a special place to be for artists, managers, agents, promoters and everyone in the entertainment community who has brought their tour to our venue."
Pollstar Magazine focuses primarily on the concert industry and also reports on news regarding sports and entertainment. The nominating committee is comprised of industry leaders in all facets of the entertainment business, including: arena managers, artists, artist managers, agents and promoters from across the country and abroad.
Pollstar's Top-5 U.S. Venues (Show & Concert Ticket Sales):
1. Madison Square Garden (New York, N.Y.)
2. Forum (Inglewood, Calif.)
3. American Airlines Center (Dallas, Texas)
4. Bridgestone Arena (Nashville, Tenn.)
5. Prudential Center (Newark, N.J.)
6. Capital One Arena (Washington, D.C.)
7. Mohegan Sun Arena (Uncasville, Conn.)
8. Barclays Center (Brooklyn, N.Y.)
9. NYCB Live Home of The Nassau Veterans Mem. Col. (Uniondale, N.Y.)
10. Sprint Center (Kansas City, Mo.)
Bridgestone Arena underwent close to $12 million in renovations this summer, which included an overhaul of the in-arena audio-visual systems, new LED ribbon boards and hockey boards, as well as concession enhancements and additions along the concourse. Serving as the home for numerous national and international events, Bridgestone Arena has the distinction of being one of the busiest venues in the United States over the past decade and a half.
To receive regular updates on upcoming events at Bridgestone Arena go to BridgestoneArena.com. For more information on the Nashville Predators, game schedule and ticket availability, please visit NashvillePredators.com.