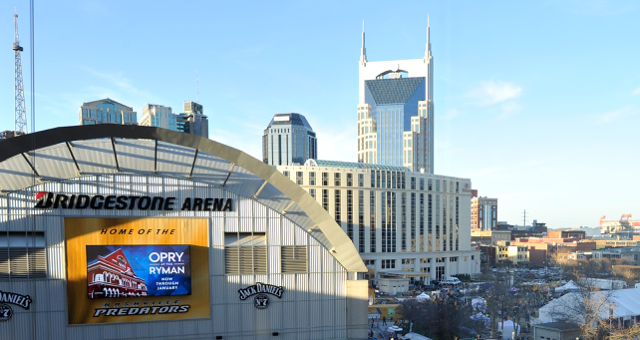 Bridgestone Arena Ranks Top Ten in the U.S. in World Ticket Sales in Pollstar's 2018 Mid-Year Report
Nashville, Tenn. (July 17, 2018) – Bridgestone Arena ranks ninth in the United States and 24th in the world for concert ticket sales, according to international trade publication Pollstar's Mid-Year Ticket Sales report. Pollstar announced Bridgestone Arena ticket sales as 246,504, inclusive solely of show and concert tickets. When including the SEC Women's Basketball Tournament, NCAA Men's Basketball Tournament and Nashville Predators home hockey games, Bridgestone Arena has hosted nearly 1 million people in the building year to date.
Pollstar's Top-10 U.S. Venues (Show & Concert Ticket Sales):
Madison Square Garden (New York, N.Y.)
Forum (Inglewood, Calif.)
American Airlines Center (Dallas, Texas)
Prudential Center (Newark, N.J.)
NYCB Live Home of The Nassau Veterans Memorial Col. (Uniondale, N.Y.)
Barclays Center (Brooklyn, N.Y.)
Capital One Arena (Washington, D.C.)
Allstate Arena (Rosemont, Ill.)
Bridgestone Arena (SMASHVILLE, TN)
T-Mobile Arena (Las Vegas, Nev.)
Serving as the home for numerous national and international events, Bridgestone Arena has the distinction of being one of the busiest venues in the United States over the past decade and a half. In addition to being named Pollstar's 2017 Arena of the Year, SVP of Entertainment and Marketing David Kells was named the 2017 Venue Executive of the Year. Bridgestone Arena continued to rack up the awards in 2017, including the 2017 Arena of the Year by IEBA, CMA and ACM, the Tennessean's 2017 Top Workplace and the No. 1 professional sports franchise by ESPN.
To receive regular updates on upcoming events at Bridgestone Arena go to bridgestonearena.com. For more information on the Nashville Predators, game schedule and ticket availability, please visit NashvillePredators.com.