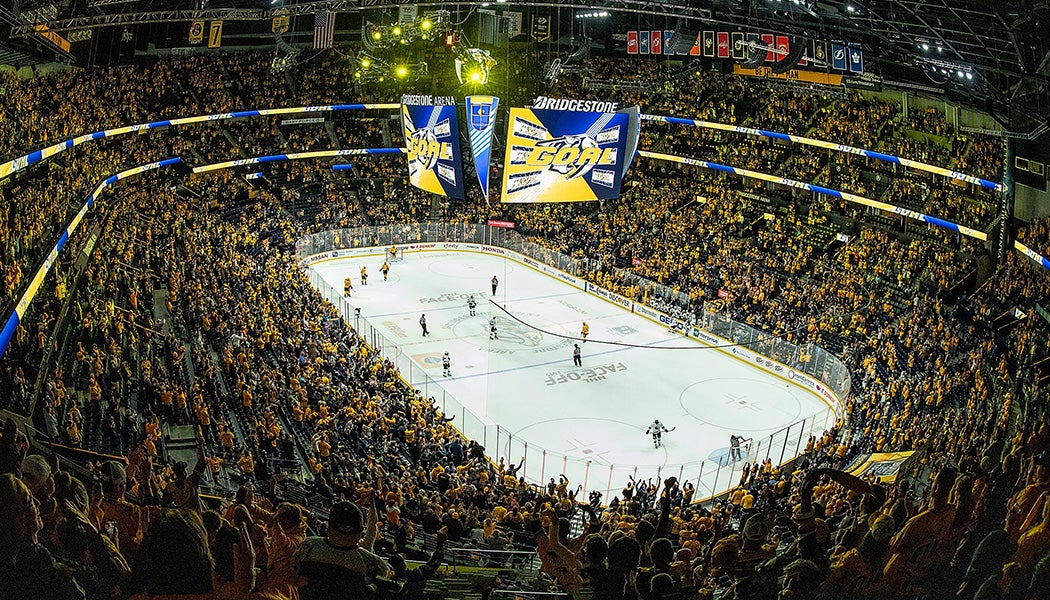 Citizens of Smashville Given National Recognition for Their Passion of Sports and Entertainment
2019 Sports Business Journal Best Sports City in the U.S. and Top 10 Year End Spot in Pollstar Rankings
As 2019 comes to a close, the Nashville Predators and Bridgestone Arena capped off a ground-breaking year with two prestigious honors.
Sports Business Journal announced Monday that the city of Nashville has been selected as the Best Sports City in the U.S. for 2019.
"The driving force of our organization and Bridgestone Arena is – and always will be – our fans, and we are so thankful to them for making Smashville the premier place to be," Predators President/CEO Sean Henry said. "The passion of our fans paired with an unparalleled commitment by the Sports Authority, Metro Government of Nashville and Davidson County, the Office of the Mayor and the State of Tennessee has enabled us to bring world-class entertainment to Smashville; in turn, the country is able to see what our city and its people are all about. We are honored to have helped make Nashville the Best Sports City in the U.S. this year."
With two home games remaining in 2019 (Dec. 23 vs. Arizona and Dec. 27 vs. Pittsburgh), the passion and loyalty from the best fans in all of sports has earned the Predators an envious streak of 42 consecutive sellouts in 2019 (a streak that encompasses two seasons of hockey) and an even more impressive active sell-out streak of 172 games, a franchise-record that dates back to April 2, 2016.
Additionally, the support of the SMASHVILLE faithful helped Bridgestone Arena secure sixth in the United States and 13th in the world for concert ticket sales based on Pollstar's year-end ticket sales report. Pollstar announced that Bridgestone Arena's ticket sales for the year numbered a record 740,975, inclusive of solely show and concert tickets.
"Bridgestone Arena's consistent elite ranking for ticket sales would not be possible without the tireless work of our incredible staff and the millions of fans who have chosen to attend the variety of events that we are proud to host year after year," Predators Chief Operating Officer Michelle Kennedy said. "It is our unwavering objective for Bridgestone Arena to maintain its position in the heart of Music City and to continue to flourish alongside the music and entertainment industry that has molded Nashville into one of the top destinations in the world."
Bridgestone Arena hosted 12,346 more concertgoers in 2019 than it did in 2018, the third consecutive year that it has bested its previous attendance high. When including Predators home hockey games and the SEC Men's Basketball Tournament, Bridgestone Arena has hosted more than 1.75 million people in the building year to date during 2019.
"It's an honor to preserve our rank as one of the busiest arenas in the United States," Senior Vice President of Entertainment & Marketing David Kells said. "We owe our thanks not only to the staff and fans, but also to our dedicated partners and the artists, managers, agents and promoters who choose Bridgestone Arena as a stop on their tour. Because of them, we are able to offer a world-class entertainment experience to every guest that steps foot in our venue. Comparing Nashville's relatively small population to a number of the other cities on the list, the support we receive from our community is just tremendous."
Bridgestone Arena – Pollstar's 2014 and 2017 Arena of the Year – was nominated for a 13th consecutive year, and Kells was nominated for Venue Executive of the Year for the seventh time in his career after winning the award in 2017.
Pollstar's Top-10 U.S. Venues (show and concert ticket sales)
1) Madison Square Garden (New York, N.Y.)
2) Forum (Inglewood, Calif.)
3) Barclays Center (Brooklyn, N.Y.)
4) Wells Fargo Center (Philadelphia, Pa.)
5) Little Caesars Arena (Detroit, Mich.)
6) Bridgestone Arena (Nashville, Tenn.)
7) TD Garden (Boston, Mass.)
8) Prudential Center (Newark, N.J.)
9) American Airlines Center (Dallas, Texas)
10) Allstate Arena (Rosemont, Ill.)
In addition to Predators home games, Bridgestone Arena continued to prove itself as one of the top music and entertainment venues in the country by hosting 61 performances and 40 sold-out shows in 2019. This year, Bridgestone Arena also hosted events such as the 53rd CMA Awards, the SEC Men's Basketball Tournament, Scott Hamilton and Friends and many more.
"Nashville is one of the premier destinations in all of sports and the Southeastern Conference is proud to be aligned with the Music City for many of our signature events," SEC Commissioner Greg Sankey said. "Nashville has proven to be an outstanding long-term home for SEC Basketball tournaments, and it provides a wonderful holiday destination for fans following SEC football teams to the Music City Bowl. In 2021 we will bring SEC Football Media Days to Nashville for a week of summer activities. For every event, Nashville provides tremendous support and creates lasting memories for student-athletes and fans alike."
This year, the Nashville Predators and Bridgestone Arena created an economic impact of $676 million, further accelerating Former Mayor Phil Bredesen's vision that the Predators and Bridgestone Arena would bring business, tourism and activity to Nashville's Lower Broadway as part of a booming "Arena District."
"Most people think of Nashville as the capital of the country music industry, but having lived in Nashville for the past 15 years, I know it to be so much more," Olympic Gold Medalist and Scott Hamilton Skating Academy founder Scott Hamilton said. "Simply put, no one does big events better than Nashville, and as Mohammed Ali said, 'It ain't bragging if it's true.'"