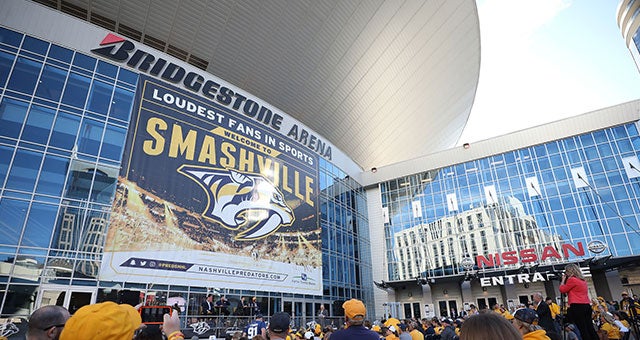 IEBA Arena of the Year Award Latest Honor for Bridgestone Arena
Brooks Bratten
Back-to-back Ed Sheeran shows. Back-to-back Chris Stapleton shows. Two Predators hockey games - one of which was the 2017 home opener - sandwiched in between.
Sure, it's a lot to fit into eight days, but it's just what happens on a regular basis at Bridgestone Arena.
And it's weeks like those throughout the course of a calendar year that cause those in the industry to take notice, not only the quantity of events that are put on, but the quality with which they play out.
On Tuesday night, in a ballroom just across the street from the building that just celebrated its 20th year of excellence, Bridgestone Arena was named Arena of the Year by the International Entertainment Buyers Association (IEBA) during their 2017 Industry Awards.
Bridgestone Arena was nominated for Arena of the Year alongside Air Canada Centre in Toronto, American Airlines Center in Dallas, Barclays Center in Brooklyn, Madison Square Garden in New York City, Moda Center in Portland, Oregon, and T-Mobile Arena in Las Vegas - rising to the top among the best in the industry.
"We were honored to be named Arena of the Year," Bridgestone Arena Senior Vice President of Booking David Kells said. "The award is voted on by industry peers, so it's the people who look at us and know what we're doing every day. It's folks who understand the guts of this industry, so to have them choose us is very humbling."
The reputation that Kells and his team have built in recent years has been noticed and reflected by record ticket sales numbers for Nashville Predators hockey games, concerts and events held at the Arena, with many acts now playing two shows during their stops in the Music City, not just one.
"The touring folks know when they come into Bridgestone Arena that it's going to be a good day, the folks who book and promote shows know that they can come to Bridgestone Arena and sell tickets and be successful and the fans know they can come here, be safe and have a good time," Kells said.
He also attributes the building's success to the perfect storm last June when the Predators and Bridgestone Arena hosted its longest postseason run ever, culminating with three Stanley Cup Final games held in Nashville.
"The playoffs showed what the city can do when everybody works together, what sports and music can do when you combine them," Kells said. "Everything became bigger than what it was. We were more than just a hockey game, we were more than just a concert, we were more than just Music City and Broadway. That playoff run was a great commercial for what we can do as a team, as an Arena and what we can do as a city."
From 52 sold-out hockey games, the 2017 SEC Men's Basketball Tournament, annual CMA Awards and CMT Awards shows and a slew of performers, including doubleheaders from the likes of Sheeran, Stapleton, Tim McGraw and Faith Hill, Luke Bryan and Eric Church, it's been quite a year for those who call 501 Broadway home, if even for just one night.
Now that Bridgestone Arena has added this accolade to its already impressive trophy case, it only brings a desire to do more. Kells says there are still artists who have never played a show in the building, a checklist that he wants to continue crossing off in the future - plus, he's hoping for another multi-run event before year's end.
Because those weeks that include multiple shows and hockey games from Sunday through Saturday aren't just good for the building and those who spend their time within its walls, it's good for Nashville, too.
"It's everybody's award," Kells said. "If there were major deficiencies in any area throughout the building, then we wouldn't be nominated, we wouldn't be recognized, we wouldn't be to the place where we are now. These shows, these events, they can be great in another city, but it can be a thousand times greater in Nashville."