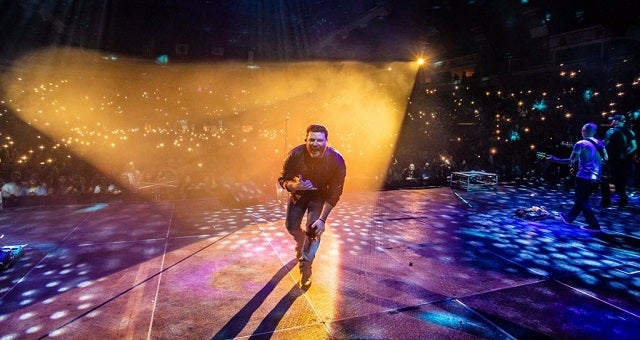 Nashville Native, Preds Fan Chris Young Set to Headline Bridgestone Arena
Brooks Bratten
Chris Young is no stranger to Bridgestone Arena.
He's been a spectator in the building for numerous concerts and games, so many, in fact, he can't even recall the number of times he's watched the Predators play.
But when Young ventures from his Nashville residence to 501 Broadway on Saturday night, he's the one the sold-out crowd will be coming to see.
The Murfreesboro, Tennessee, native is set to perform a headlining show at Bridgestone for the first time in his career as part of the "Losing Sleep 2018 World Tour." Young says he's envisioned what Saturday's concert will bring, but the prospect of experiencing that rush of emotions in his hometown takes it to a different level.
"To actually be playing there, much less it being sold out and being sold out in advance, it's just incredible," Young told NashvillePredators.com. "I've wrapped my head around it, but I don't think I'm really going to know what that's like until I'm standing there on Saturday and looking out at that crowd."
Plenty of family and friends will make up the sea of faces staring back up at him, a humble reminder of where he came from and the stage he's now fortunate enough to grace. Of course, there will be plenty of fun to be had as well - and nerves? Not a concern.
"Somebody was like, 'Hey are you going to be nervous?' And I'm like, 'No, people are showing up, we don't have to worry about that part,'" Young laughed when recalling a recent conversation about the upcoming show. "It's just going to be an incredible night, and it'll be a lot of fun."
Once the fanfare of his own show has concluded, it won't be long before Young is back at Bridgestone Arena with 17,000 of his closest friends to cheer on the team that has become part of daily life in Nashville.
While he grew up a sports fan, there just wasn't much exposure to hockey growing up in Middle Tennessee before the Preds arrived in 1998. Young had a place downtown during the early years of the Predators franchise, and one day, he decided to give this new sport a try - and he's never looked back.
"I lived in an apartment a couple of streets over [from the arena], so I walked down, bought the cheapest ticket I could get and got in and watched the game," Young said. "That was actually the beginning of my love for hockey - because we had the Preds.
"Just going to a game in person and being there and being a part of that atmosphere, all the chants and everything else that going on, it's just cool to be a part of that. It's something that you don't really realize until you're right there in the moment."
While Young will cheer for anyone sporting a Gold jersey, he lists P.K. Subban as one of his favorites, simply because he's gotten the chance to know the blueliner personally since No. 76 arrived in Nashville back in 2016.
It was also around that time when Predators fandom was growing rapidly to levels the Music City had never seen before. Because of that, Young has never felt more pride toward his hometown club - and he's not afraid to let people know.
"It's a lot of fun to be able to trash talk back to people," Young laughed. "But it's been incredible. It's been so much fun. As somebody that saw them through a lot of years where that success was not there and those guys just stayed grinding and kept trying, to see it at a point now where there's this sustained success for a few years, it's incredible."
Just as incredible as a Nashville native stepping up to the microphone in the same venue.