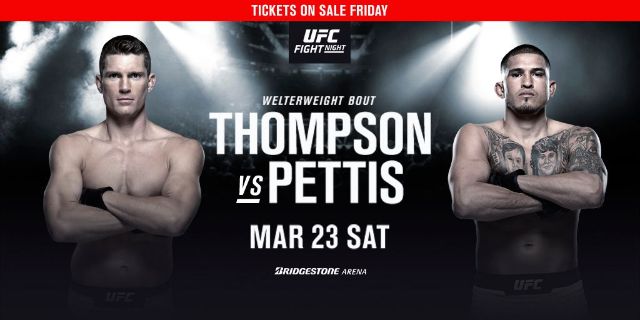 UFC Fighters Anthony "Showtime" Pettis and Stephen "Wonderboy" Thompson Prepare For Welterweight Bout at Bridgestone Arena
Two of the UFC's powerhouse contenders will go head to head in a main event welterweight bout as former world champion Anthony "Showtime" Pettis takes on Stephen "Wonderboy" Thompson at Bridgestone Arena on March 23.
Pettis, a former world champion, and Thompson — who boasts five first-round knockouts to his record — have been lauded as two of the most dynamic and explosive strikers in the UFC. Both are promising a fight for the ages.
"I'm looking forward to it," Thompson said. "Me, Anthony "Showtime" Pettis, right here. You're definitely going to see some fireworks, I'll tell you that."
Pettis, whose creative and flashy fighting style earned him the nickname "Showtime," sees the upcoming fight as surreal. When Pettis was 16, his father was killed in a house robbery. The experience pushed Pettis to carve out a future for himself and his younger brother.
"We had taekwondo in our lives and it helped us and gave us a focus when we lost our pops, and I wanted to be a role model for my brother," Pettis said. "So I just really took it upon myself to give him a future. He fights in the UFC too now, so for me it's a dream come true. I'm just living the dream right now."
Pettis, who recently moved up to the welterweight class, is looking forward to the new challenge.
"My father always told me never let another man put fear in your life, so that's how I live my life. I fight No. 1, No. 2, I don't care what they are," Pettis said. "For me, you have to take the risk to get the reward and this is a guy who's going to bring out a good fight in me."
Thompson, who teaches martial arts in his hometown of Simpsonville, South Carolina, is excited for his town to fill up Bridgestone for the fight.
"We have 750 students and their family and friends, so we're going to be packing the place out. Pretty much all of my hometown is going to be there watching," Thompson said. "That really drives me to really train as hard as I can and put on a show for everybody here in Nashville."
Like Pettis, Thompson started martial arts at a young age. His nickname "Wonderboy" stuck after taking down an undefeated fighter almost 10 years his senior.
"I was 15 years old when I had my first fight. My dad kind of threw me to the dogs on this one, because at the time I was getting beaten up by my sister — I thought I wasn't very good. This was his way to show me that I was better than I thought I was," Thompson said. "I ended up beating the brakes off the guy, and my opponent said afterward, 'I wondered why I even stepped in the ring with this boy.' The announcer started calling me Wonderboy and it's stuck ever since."
For him, martial arts provided an outlet and taught valuable life skills — skills Thompson wants to pass on to future generations.
"I know what the martial arts has done for me, not just as a fighter but as a man. Back home in our gym we're teaching modesty, courtesy, integrity, self-control, perseverance, showing indomitable spirit, and that's what the martial arts are all about," Thompson said. "We want our (children) to go through life having that and knowing that, when you do go through adversity, you persevere, you don't give up."
While both contenders know the event will be a dream fight for UFC fans, those unfamiliar with the sport are encouraged to attend as well.
"If you've never been to a UFC event, especially one that I'm headlining, it's an experience you've never seen," Thompson said. "Pettis is a phenomenal striker and so am I, and there's going to be a knockout."
For tickets and more event information, click here.