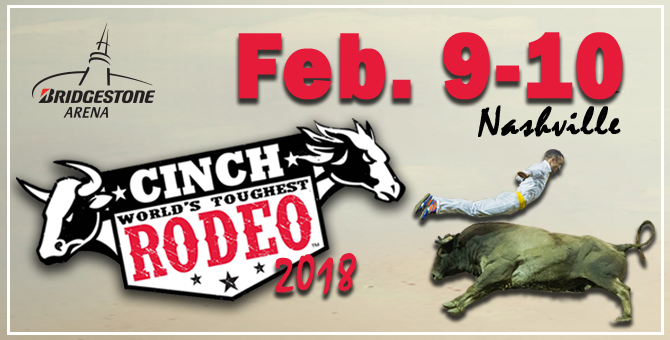 World's Toughest Rodeo Takes Over Smashville
First, Dusti Crain will hang off her horse horizontally, circling the arena with her ankles hooked in the saddle and her head dipping toward the dirt. She'll then stand upright at full gallop before discarding the saddle all together and straddling a pair of horses.
"That's when we bring in the fire," Crain explained.
It's all in a day's work for Crain, a trick rider and Roman rider with Cinch World's Toughest Rodeo that will take over Bridgestone Arena on Friday and Saturday evenings.
The rodeo tour provides a unique combination of traditional fast-paced pro rodeo action and exciting western family entertainment. Between bucking broncos and bulls and the wild cowboys who ride them, fans will be treated to premier showcases of trick riding and daredevil bull jumping by Manu Lataste.
It's enough excitement to entice the interest of even the most veteran rodeo professionals like Crain.
"My husband and I will perform and then run up to sit in the crowd and watch what they bring," said Crain, who will take to the arena with her spouse, fellow trick rider Justin Dickerson.
Crain grew up around rodeo in Illinois but found the special combination of her interests in trick riding when she was only eight years old.
"It's like gymnastics and riding tied in together to create the perfect storm," she said. "I was just
transfixed by the costumes and how fast the horses went. I thought it was the coolest thing I'd ever seen."
She's followed that passion for the past 12 years since becoming the youngest female Roman rider in Dolly Parton's Dixie Stampede Dinner & Show in Pigeon Forge, Tennessee, in 2006.
Crain's signature Roman riding is like trick riding on another level. Instead of swinging off a single horse as it moves, she'll mount two or even three at a time while doing jumps and handling flaming torches.
All of which she does bareback - without a saddle - and barefoot.
"With trick riding, it's more showcasing what I'm doing and the acrobatics, but Roman riding is about the relationship between me and the horses," she said. "There's a lot of maneuvers between us and there has to be a lot of trust between me and the horses."
Tickets are still available to both Cinch World's Toughest Rodeo performances, which begin at 7:30 p.m. on Friday and Saturday. But a ticket will also gain fans entry to a special pre-show event for families at 6 p.m. where kids can meet the performers, ride some ponies, try their hands tossing a lariat and, for the most daring among them, even sit atop a bull.